A healthy vegetable salad recipe to lose weight is a mix of vegetables. It consists mainly of healthy vegetables and healthy oil, pepper, cilantro, and other healthy ingredients. This gives the salad a great texture and flavour. This salad is great for healthy eating and can be made every day.
Other healthy weight-loss recipes you can check out on the blog include overnight oats for fat loss, scrambled whites, detox beverages for weight reduction, green juice for weight Loss, nighttime smoothies, and more.
About the recipe
This is a simple recipe, but it's a healthy and nutritious one that can be served as a main dish for lunch or dinner. This can be part of a balanced meal plan and can also be used to lose weight.
I'm using simple vegetables that are readily available at every vegetable store. I'm using mostly common veggies like tomatoes, cucumbers and carrots. However, you can also add other vegetables.
Broccoli is a healthy addition to the salad, so I have included it along the other veggies. To make the salad more flavorful, I added some lemon juice and olive oil to it. It is easy to eat and delicious.
The following ingredients are necessary to make this recipe a great option for a diet or weight loss meal. You can alter the ingredients according to your preference. Other vegetables can also be substituted with the one used here.
Ingredients
Onion:These vegetables are essential for any salad recipe because they make the salad delicious and also add a slight sweetness to the mixed salad.
carrots:You can also add chopped carrots to the vegetables. This gives it a healthy, sweet taste and makes it healthier as carrots are a good source of vitamin A. This makes it a healthy choice for healthy eyes.
Bell peppers:Any bell peppers, including green capsicum, red, yellow, or orange, will work well with any salad. The capsicum seeds are too spicy so it is important to remove the seeds. The capsicum can be chopped and used as a topping for any dish.
tomato:Chop tomatoes, preferably without seeds. There are many varieties of tomatoes that can be used in salad recipes. Roma tomatoes are a popular choice for toppings and salad recipes in American regions.
cucumber:You can lose weight by adding a cucumber, either a baby or a regular cucumber. It has a remarkable water content and acts as a hydrating veggie.
It is also a great addition to salad recipes. Sometimes, cucumber salad can be made as a single ingredient.
broccoli:This vegetable is well-known for its health benefits. You can use it in many quick recipes, such as steaming or adding to salads.
cilantro leaves: A combination with cilantro makes it flavorful.
Salt and pepperSeasoning salads with salt and pepper is essential.
LemonYou can also add lemon or lime to give it a tangy taste.
Olive oilAdding olive oil to various salad recipes is a healthy and important step.
Variations
I choose the vegetables that I use and add them with a weight loss mindset. There are many variations to the salad recipes and vegetable salad recipes. You can add many other vegetables to the recipe.
To make the salad even more delicious, you can add vegetables that you love to it. Boiling corn is an excellent addition and healthy choice. You can also add chopped lettuce to your salad.
I love to add boiled chickpeas and make it a complete meal. This salad can be used as a healthy breakfast, lunch, or dinner.
You can add cabbage to the salad to help you lose weight.
Other healthy recipes to try include: apple cider vinegar and honey, oatmeal smoothie weight Loss, aloe Vera juice for weight Loss, salt water flush, black tea to help you lose weight, and many more.
Salads are good for you
Raw vegetables are good for your health. If you're looking to lose weight, then choose the right veggies to add to your salad.
If you're trying to lose weight, you should avoid certain vegetables. The main sources of Vitamin C are tomatoes, capsicums, and other vegetables that are included here. Other veggies also contribute to Vitamins.
Salads are a good source of Vitamins and fiber, depending on what we add. They can also be used as a substitute for junk food.
They help maintain a healthy heart and sugar levels.
Step by step process
Use a large bowl to mix the ingredients. add ½ large onion by chopping it finely.

Add finely chopped carrots by peeling and chopping it into small pieces.
You can also add a small cup of finely chopped green, red, and orange bell peppers. Capsicum.
Add tomato, finely chopped using deseeding tomatoes or using deseeded tomatoes.
Add a cup of chopped cucumber.
Add in half cup of broccoli leaves. If they are too large, chop them into pieces.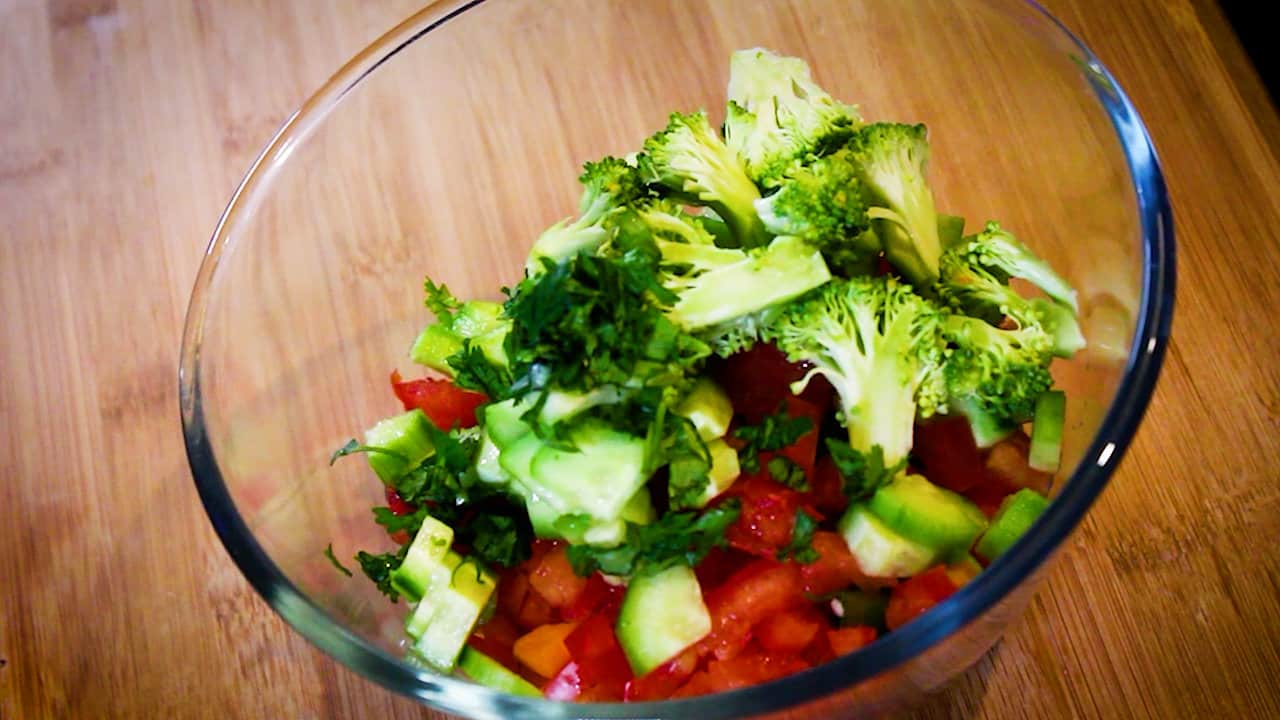 One tablespoon of finely chopped Coriander leaves can be added.

Adjust salt to taste and add black peppercorn powder.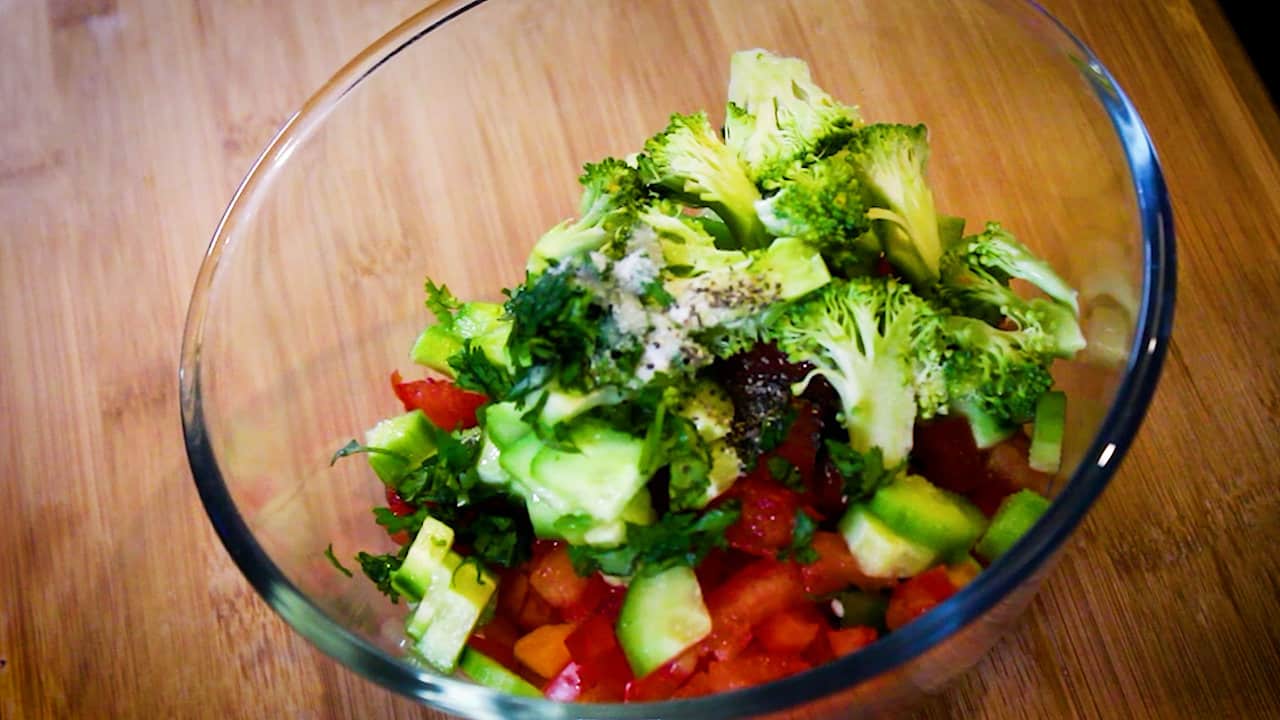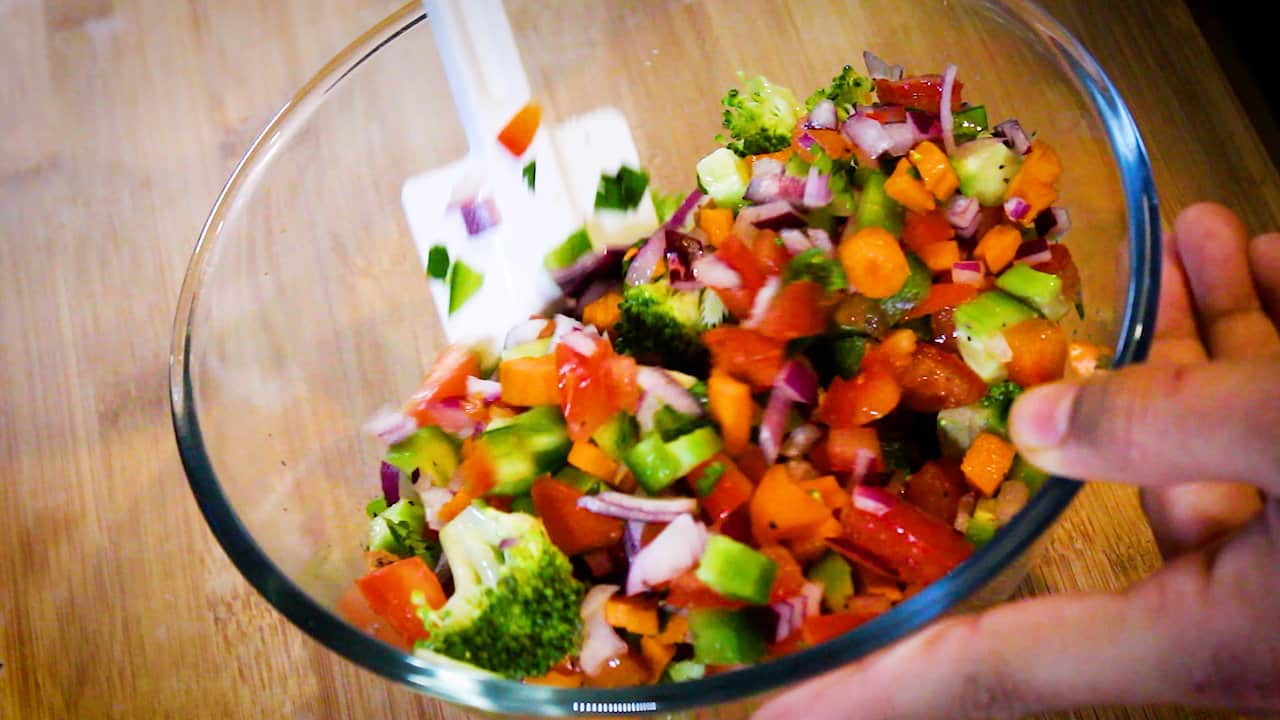 You can also add one teaspoon of lemon juice.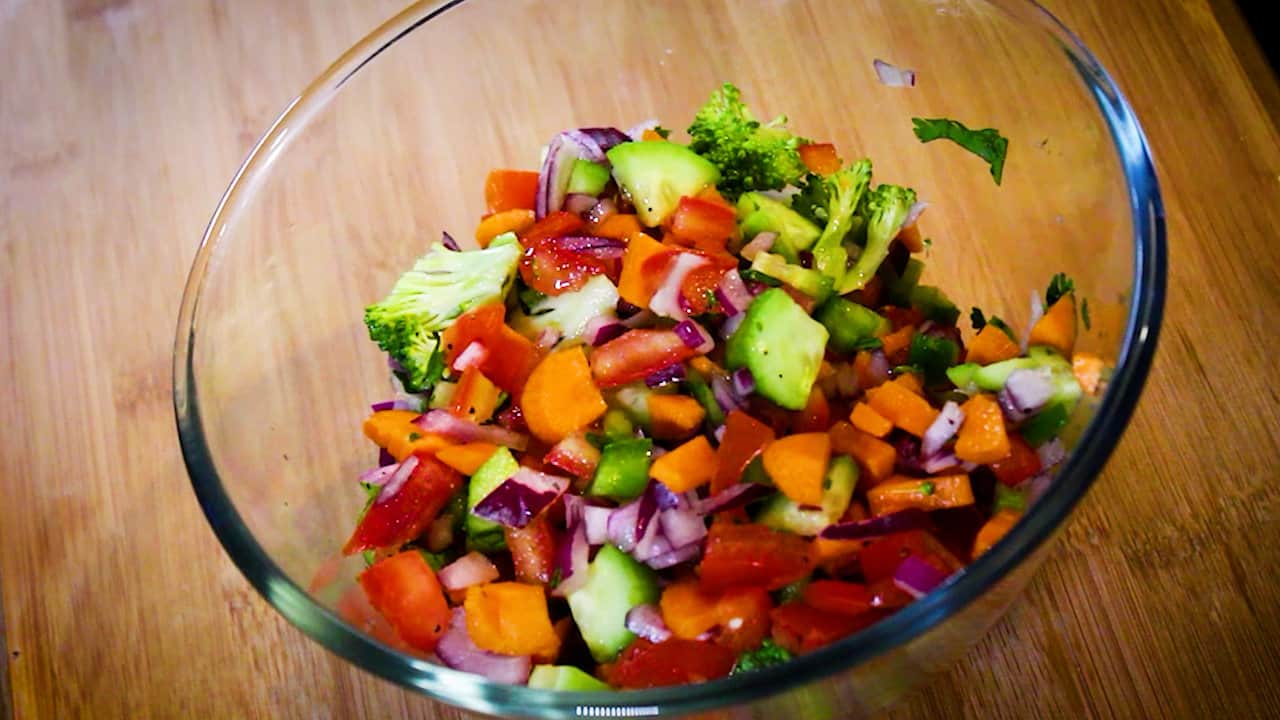 Olive oil can be added.

Give a good mix.
The vegetable salad recipe can be used to lose weight and is healthy.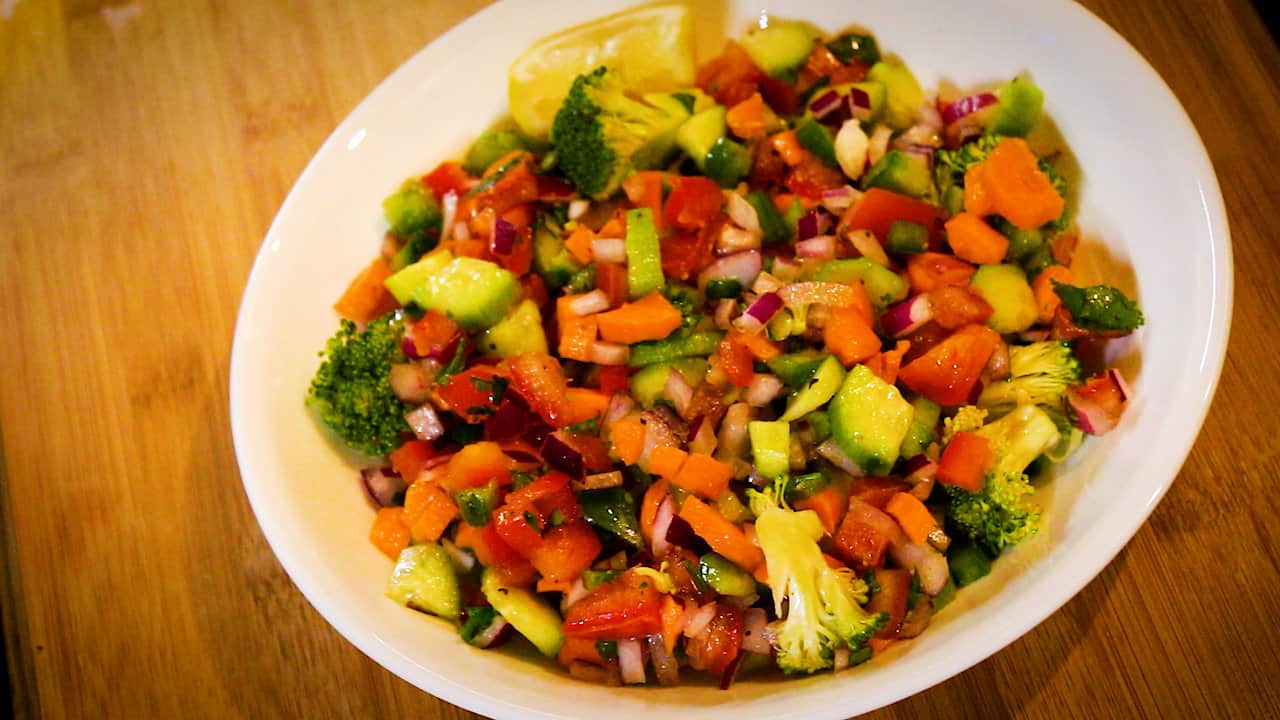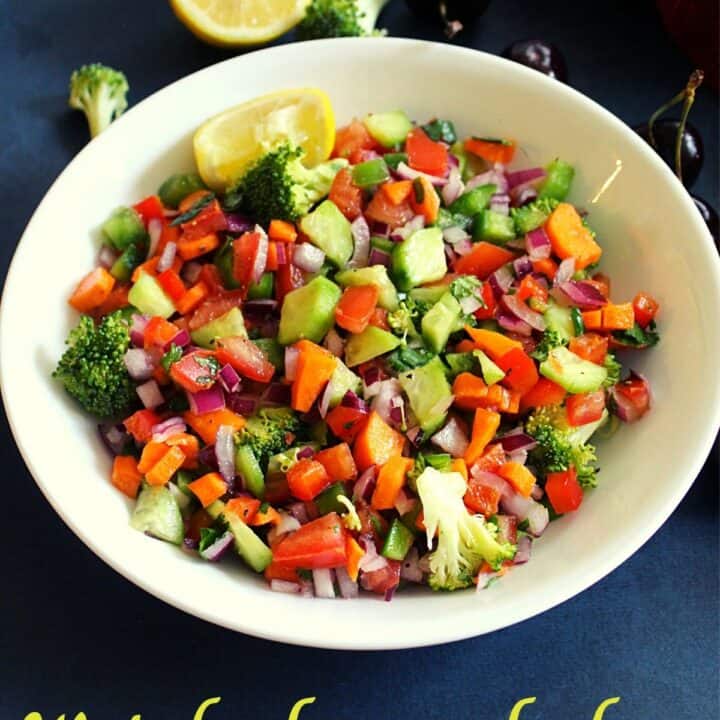 Vegetable salad recipe for weight loss
Indian food is delicious
A mixed vegetable salad that is made with simple vegetables like cucumber, tomato, and cucumber.
Ingredients  
½

Large onion

(very finely chopped).

1

Carrot

(finely chopped)

1

Small cup finely chopped

(Green, orange, and red bell peppers).

1

tomato

(finely chopped)

1

Cup

Cucumber

(finely chopped)

½

Cup

Broccoli florets

1

Spoon

Finely chopped coriander leaf leaves

Salt to taste

¼

Take one teaspoon

Powdered black peppercorn

1

Take one teaspoon

Lemon juice extracted
Instructions 
Take a large mixing bowl.

Add onion, very finely chopped.

Add finely chopped carrot.

A small cup of finely chopped orange and green bell peppers.

Add tomato, finely chopped.

A small cup of cucumber, finely chopped.

Half a cup broccoli leaves.

One tablespoon finely chopped coriander leaves.

Salt to taste

Add black peppercorn powder.

Mix it up.

Lemon juice can be added.

Finally, add olive oils.

Mix it.

Serve the healthy vegetable soup.
Nutrition
Nutrition Facts
Vegetable salad recipe for weight loss
Serving Size
Calories 62
Calories starting at Fat 9
% Daily Value*
Fat 1g2%
1g Saturated Fat6%
1g of polyunsaturated fat
Monounsaturated Fat 1g
Sodium 36mg2%
Potassium 551mg16%
Carbohydrates 14g5%
Fiber 4g17%
Sugar 7g8%
Protein 3g6%
Calcium 49mg5%
Vitamin C 83mg101%
Vitamin A 6031IU121%
Iron 1mg6%
* Percent Daily Values are based on a 2000 calorie diet.
WANT VIDEO RECIPES TO WATCH?
SUBSCRIBEUS ON YOUTUBE
Faq
Is this a good way to lose weight?
This simple weight loss recipe can be eaten regularly. It contains cucumber, cilantro, and can help you lose weight. But, eating just salad is not enough to help you lose weight. You need to do more.
If you are looking to lose weight, it is important to include other activities like exercise, healthy eating, and a healthy lifestyle.
Can we add more vegetables to the salad to lose weight
Yes, adding more green leavesy veggies like spinach, kale and lettuce to your meals can help reduce fat.
Recommendation