Today's salt water flush recipe is one of the many that I have on the blog. It is a colon cleanse or flushing recipe that only requires a few ingredients and takes just a few minutes. If you have bowel movements issues, this can help you cleanse your stomach.
There are many detox drinks or flush drinks available on the blog. I will continue to add more that may be of benefit to my viewers. You can check out black coffee for weight-loss, cumin water for weight-loss, lemon cucumber mintwater, apple cider vinegar recipe for weight loss, chia seeds to weight loss drink, and many other drinks.
Jump to:
About the recipe
This is a colon cleansing salt water detox drink that you can make at home. Its main purpose is to cleanse our colon and eliminate toxic substances from our bodies once in a while. It can also help with irregular bowel movements or other issues like constipation.
There are many detox drinks that can help detoxify the body. However, sometimes you may need to urgently clean the colon and get rid of any impurities to ensure a healthy colon. These recipes can be saved by this drink.
There is no evidence to support the drink's regular use, and I always recommend seeking out a doctor's opinion before consuming the drink.
Also, be sure to check out other International recipes such as how you can make rose water, instant oatmeal, healthy overnight Oats for weight Loss, and oats smoothies.
Ingredients
The only ingredients required to make this recipe are the two listed below.
Himalayan salt or pink salt:This salt is the purest form of salt and is highly valued for its amazing benefits. It is used in many recipes, including detox recipes, stomach cleansing, or digestion-related recipes.
This pure pink salt is readily available in the market so I am using it in my saltwater flush recipe
Warm waterWarm water is more effective at detoxing the body than cold water. I will be using warm water with salt to cleanse the body.
These are the two main ingredients. You can use Himalayan pink sea salt if it isn't available.
Below are details about the many benefits and useful properties that pink salt can have for the human body.
Benefits of himalayan salt
This salt is high-in essential minerals as well nutrients. It is easily found in Pakistan's rock areas.
It contains less sodium than regular table salt, and is better known for treating stomach issues like constipation, digestion, etc…
If the body has lost too much sweat, it can restore the minerals. You can add some pink salt to water and it will immediately replenish the nutrients lost and energize your body.
It balances your body's ph levels if you have any issues. This drink can instantly help to restore electrolyte balance and balance the levels.
Normal table salt can cause excess sodium to build up in our bodies and keep the fluid in our bodies. This is due in part to the high sodium content of table salt, compared with pure sea salt.
The table salt is artificially added with iodine, but the sea salt is naturally high in iodine.
High fluid retention can lead to health problems like heart problems and blood pressure problems.
You should eat a low-sodium diet to avoid high blood pressure.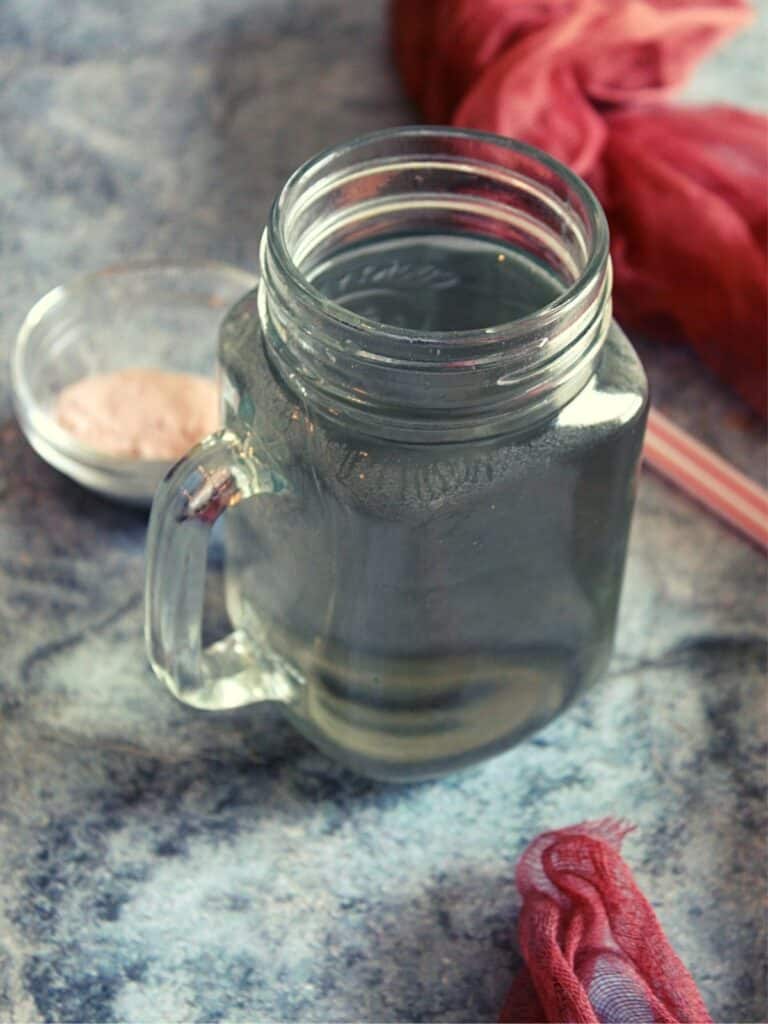 Other benefits
It can be used in saltwater baths to clean the skin and also to remove impurities. It can be used to exfoliate the skin by being added to the water during a bath, or applied to the skin by adding hair oils.
It is commonly called 'Kala Na Mak' and is often added to other digestive drinks, such as aam panna or pani de golgappa to make it delicious.
This drink is why?
Sea salt flushes or sea salt cleanses help to eliminate toxins from the bowels. They also treat irregular bowel movements by cleaning them.
Let's say we have consumed many unhealthy drinks and they have remained in our bodies. This drink can help flush them out by cleansing the stomach and colon.
It is fast to cleanse the stomach and treats constipation, bloating, and other digestive issues.
Drinking this beverage works wonders to remove any fluid that is harmful to blood pressure.
This drink can also be used to ease sore throat problems.
It is used to treat all gastrointestinal problems.
It is possible for the body to flush out impurities, making us feel light. However it is only temporary.
If you are looking to lose weight quickly, then this saltwater flush weight-loss recipe is for you. Also, do not forget to check out other weight loss options such as honey apple cider vinegar and cinnamon, or smoothies to lose belly weight fast.
Drawbacks
This drink can cause excess bowel cleaning and can also lead to excess salt loss.
Salt water cleanse drinks can also cause tiredness and fatigue. It can also cause blood pressure fluctuations and vomiting sensations.
It can also cause muscle spasms. Therefore, it is important that one monitors the amount of this drink they are drinking as it can be dangerous to consume it frequently.
What to drink and when to drink it?
Mix a tablespoon of Himalayan pink salt, or pure sea salt, into one quart of warm water. Stir well.
Take it with an empty stomach. Give yourself at least 30 minutes to digest it. Then, take it out again the next morning.
You should not attempt to have the salt water flush during the middle of the workday or with a busy schedule. It can be difficult to get the bowel cleaned properly and may require multiple visits.
It can save you time and money by not having to go to the toilet as often as you should. Salt can be dangerous if you consume it regularly. Use it only in an emergency or on a restful day.
What happened to salt water flush?
This is not a drink that is often recommended. You can also try other methods to detoxify.
You can choose from a variety of methods to have or maintain a healthy diet that includes soups, salads, and a diet rich with potassium, iron, etc.
This can help you maintain a healthy colon.
Regular exercise is a great way to improve your health and digestion.
You can find the master cleanse recipe here.
Note:You should always consult your doctor before you try any of the detox drinks on the blog. The information is not provided by a medical expert, and may require the assistance of a doctor.
Recipe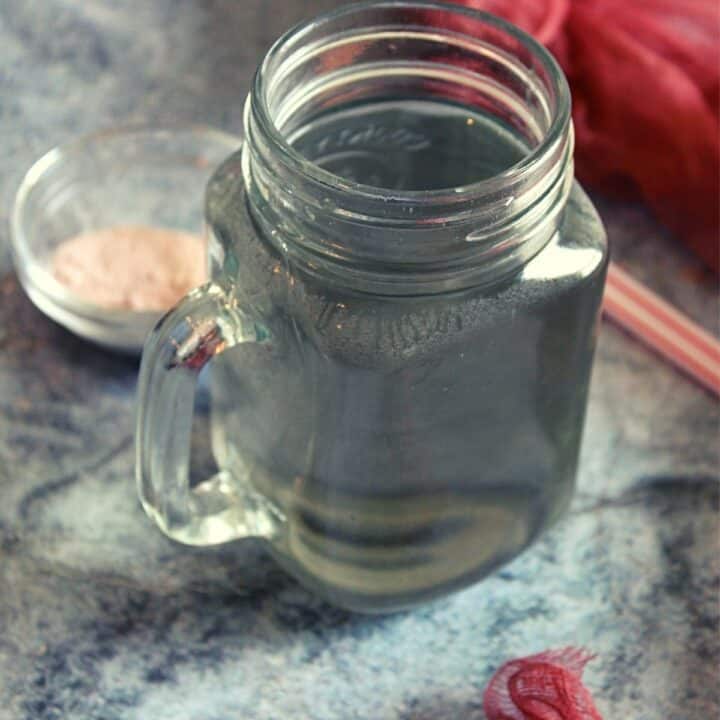 Salt water flush recipe (saltwater cleanse detox)
Delicious Indian cuisine
A quick detox drink that uses salt and water.
Ingredients  
1

glass

Water

1

Spoon

himalayan pink salt

(kala namak, black salt)
Instructions 
Drink a glass of water, or roughly 16 ounces.

You can heat the water in a microwave or on the stovetop, but don't boil it.

Use only lukewarm water

Place the water in a glass.

Add a tablespoonful of pink salt or pure salt to the water.

Stir until salt is completely dissolved.

It is best to eat it with a full stomach.

Allow 30 minutes for breakfast.

To help your bowels flush quickly, try to lie down on your right side.

It helps to cleanse the bowels and improve constipation, bloating, and other digestive issues.

Consume on a daily basis.

You can add lemon extract to give the drink a different flavor.
Notes
The taste of the drink can be quite different. It can be difficult for some to drink.
To hydrate the body, it is important to clean the bowels.
Nutrition
Nutrition Facts
Salt water cleanse detox – salt water flush recipe
Serving Size
Calories 1
% Daily Value*
Sodium 1680mg73%
Potassium 1mg0%
Calcium 11mg1%
Iron 1mg6%
* Percent Daily Values are based on a 2000 calorie diet.
WANT TO WATCH VIDEO RECIPES?
SUBSCRIBEUS ON YOUTUBE
Faq's
How many times should I drink?
It is best to drink it if you are experiencing constipation or bowel problems. It is best to take it at least once a month.
Can I have it at any hour of the day?
It is a good idea to have it during the day.
Recommendation