Want to learn how to make a simple drink with pineapple juice, honey, apple cider vinegar? You can use this recipe as an early-morning drink or to have it more often daily, and you can enjoy your fitness program.
Check out these other drinks and weight loss recipes to help with your healthy eating habits.
Do not drink if you are experiencing any health problems, during pregnancy or while breastfeeding.
Suggested
Jump to:
About the recipe
I share the recipe with only a few ingredients. All ingredients are good for burning fat.
Pineapple is a powerful fat burner. You can combine it with apple cider vinice to reduce fat.
Honey and lime are other ingredients that support the drink. They add sweetness to the drink, make it more enjoyable, and help promote weight loss.
You can make the recipe in two ways with the same ingredients. One way is to add pineapple chunks to the mix and blend them all.
Another option is to add the ACV honey and lime to the prepared drink if you have it in your fridge.
Let's talk about the health benefits of this recipe if we eat it regularly and live a healthy lifestyle.
Benefits
Pineapple juice
When the pineapple is extracted, it gives off a fresh juice which has many benefits and aids in losing fat.
It is high in water content, which aids with hydration. Bromelain is an enzyme found in pineapples that helps mobilize fat and burn it off efficiently.
Pineapple juice should not be consumed as a drink or as part of a daily diet.
You will reap the rewards of a healthy lifestyle, such as healthy eating habits and exercise.
Pineapple is good for controlling and curbing appetite. It has good levels of vitamin C, good water content, and can be beneficial in many ways.
It is a good fruit for digestion and can be used in weight loss diets and salads.
The fiber in the fruit can also curb your hunger pangs and increase your appetite, without increasing your food cravings.
Suggested
For weight loss, try a pineapple smoothie
Apple cider vinegar
Use apple cider vinegar in healthy drinks must be in its raw, unfiltered form. "with the mother."
You can use any brand of drink, but make sure to read the label before you buy.
Apple cider vinegar, a low-calorie liquid, works amazing when added to any detox, weight loss, or tea.
Even small amounts of ACV in drinks can have huge benefits such as lowering cholesterol and controlling blood sugar levels.
Consuming apple cider vinegar can make you feel full. This may result in a person consuming less food and reducing calories throughout the day. It can also reduce calorie intake, which can lead weight loss.
ACV is a natural remedy that curbs food cravings, promotes weight reduction, and aids in heart and diabetic issues.
Drinking healthy drinks or detox drinks with ACV (apple cider vinegar) can help you lose belly fat.
Honey
This natural sugar helps to add natural sweetness and burn fat. Honey is effective in weight loss.
It works by curbing or suppressing hunger. This can help us curb our cravings and stop eating excessively. It is a great way to lose weight and burn calories.
Honey and apple cider vinegar
Lime
This citric acid fruit contains high levels of vitamin C. It can help boost the body's metabolism, and keep the energy levels up.
This pineapple juice drink is also enhanced with lime and honey.
Lime is also a fat loss ingredient that helps to reduce extra fat and provides you with satiety.
Overview
This detox with pineapple juice and honey has all the ingredients to make you feel full.
It contains approximately 170 calories, making it one of the most healthy and low-calorie drinks you can consume at any time.
Honey increases energy, reduces bloating and speeds up metabolism.
ACV slows food absorption and keeps your stomach full. ACV can also be mixed with fruits to enjoy the benefits.
Apple cider vinegar directly can cause issues with your throat and cause tooth problems.
The benefits of diluting ACV into drinks include a decreased desire to eat more and a reduced craving for sugary foods.
ACV also prevents us from eating unhealthy food or adding calories by eating another food.
Suggested
Variations
Method 1Blend all ingredients in a blender until you have a drink that is ready to be consumed.
Method 2:If you have pineapple juice already, add ACV, honey and lime to it, stir well, and then consume it immediately.
Ginger:You can also add ginger pieces to enhance the benefits of the mixture.
Mint:Mint is a miracle plant that helps boost digestion. It can also prove to be more efficient if it is added to this juice drink.
Storage
This recipe will help you make a glass of wine that you can drink immediately.
If you prefer to make it bulk, multiply the ingredients by tripling or doubling them and blend everything.
The bulk beverage can be stored in the fridge and can be consumed when needed.
The blended drink should be added to small bottles or mason containers. Close the lid tightly and store in the refrigerator. You can enjoy the fresh taste of the drink within a week.
When to drink
Take the pineapple juice, honey, apple cider vinegar juice and honey in the morning to help burn fat.
You can also drink during the day if you wish to do so twice daily.
Drinking it in the morning is a great way to detox and to get rid of excess calories.
Tips
It is not a good way to lose weight if you only drink one drink. You need to have many other habits.
A healthy diet and healthy eating habits, as well as sleeping well, reducing stress and exercising regularly, can all play a significant part in shedding body fat.
Note:
Consult a doctor or expert for more information. It can lead to different results depending on your health, especially if you have any underlying issues.
Drinking alcohol while you are suffering from serious health problems can cause severe side effects.
Recipe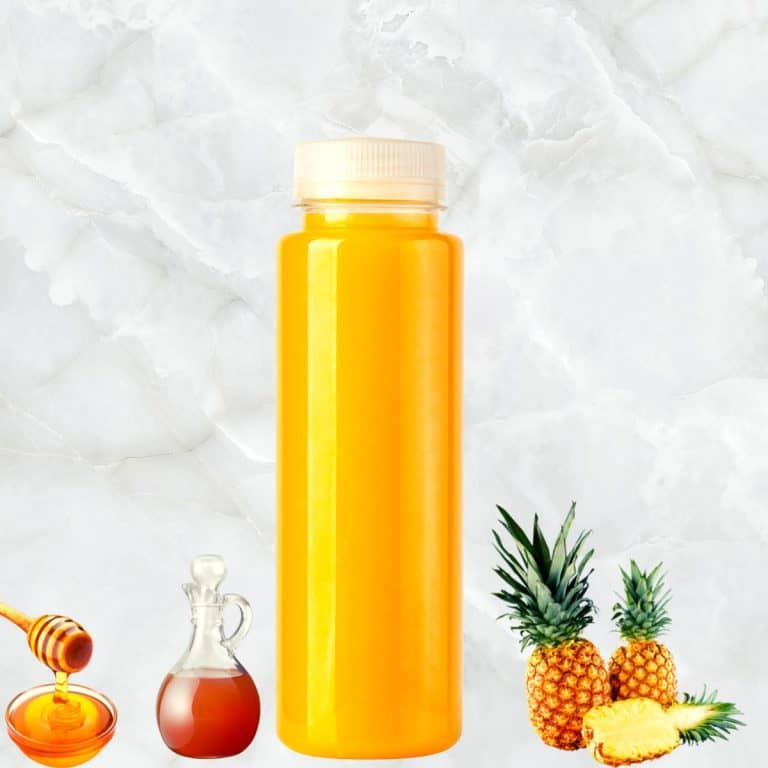 Apple cider vinegar and pineapple juice honey
Delicious Indian cuisine
Healthy pineapple juice with apple cider vinice
Ingredients  
1

Cup

pineapple chunks

(Fresh or frozen)

1

Cup

Water

1

Use the following as a guide:

apple cider vinegar

(With mother raw and unfiltered

1

Take one teaspoon

Honey

¼

lime extract
Instructions 
Add pineapple chunks in a blending bowl.

Add water to the drink

Add honey, apple cider vinegar, or lime extract.

Combine everything and pour into a glass.

Serve immediately, refrigerate for a few more hours before drinking, or add ice cubes.
Nutrition
Nutrition Facts
Apple cider vinegar and pineapple juice honey
Serving Size
Calories 171
Calories from Fat 3
% Daily Value*
Fat 0.3g0%
Saturated Fat 0.02g0%
Polyunsaturated Fat 0.1g
Monounsaturated Fat 0.03g
Sodium 16mg1%
Potassium 325mg9%
Carbohydrates 44g15%
Fiber 4g17%
Sugar 40g44%
Protein 1g2%
Vitamin A 127IU3%
Vitamin C 27mg33%
Calcium 52mg5%
Iron 1mg6%
* Percent Daily Values are based on a 2000 calorie diet.
WANT VIDEO RECIPES TO WATCH?
SUBSCRIBEUS ON YOUTUBE