Are you tired of using milk to soak overnight oats? This post will discuss a different way to make overnight oatmeal with water. It is also the best option if you don't have any other oats-soaking options, such as yogurt or milk.
It's a simple breakfast recipe. You can make overnight oatmeal with many different flavors.
Suggested
Can we use water to make overnight oatmeal?
Yes, absolutely. Yes. However, soaking oats in water can leave them with a bland taste. But if there is no other option, making oats from water is the best choice.
You can also use water if you want a simple and quick breakfast.
While water-soaked oats might not have all the nutrients you get from dairy or non-dairy, adding nuts and fruits to the oats can make them perfect.
What is the difference between adding milk or water to oats
Oats soaked with milk give them a creamy texture and a delicious flavor.
Oats are generally bland in taste. However, you can make them more delicious by adding different ingredients to them after they have been soaked overnight.
Oats are great with any milk, dairy or not, as well as yogurt with good fats or low fats.
Dairy, or milk, adds protein to your daily diet. It is also rich with calcium and many other nutrients. You could be missing out on these important nutrients by drinking water.
You may not like to add milk or yogurt to your oatmeal, but there are non-dairy options such as almond milk, coconut milk, or oats milk to soak your oats.
Water, on the other hand, has a simple, basic, and unadorned taste that is not suitable for drinking.
When soaking oats, you can add various toppings to make it more flavorful and easier to eat.
The ratio of water to oats
If you are making overnight oats for your first time, this is a common question. 
You can learn the ratio of liquid to oats through practice and trial and error.
There is no right or wrong answer. Some people prefer thick consistency and others prefer porridge-like texture.
It also depends upon the ingredients you are using. If you add chia seeds to the oatmeal, they will absorb water. In this case, you may need to add more water.
You can make oats from different ingredients to help you decide how much water to add to your oats in order to get them just right.
Another tip: Add water according to your taste and take it out of refrigerator when you are ready.
 If you observe it is too thick, add little water to the consistency desired to the soaked oats and stir well before adding toppings or other ingredients.
The ratio of oats and water will be approximately one to 1.5 cups. That is, if you make 1 cup overnight oats, then add 1.5 cups water.
There is no set rule. Adjust the liquid preference by adding 1.25 cups water to 1 cup of oatmeal.
If making ¼ cup of oats, adding ½ cup or ¾ water can make it thick than regular overnight oats.
Generally, for ¼ cup oats, going with ¾ cup oats is the best way to make overnight oats, and there is no need to add additional liquid to the oats.
Use 3.5 to 3.75 cups water for steel-cut oatmeal of 1 cup; less than 3 cups can cause it to become too thick.
To be safe, add between 3 and 3.5 cups of water. If the water turns out thick after it has been soaked, To normalize the consistency, you can add some yogurt or more water.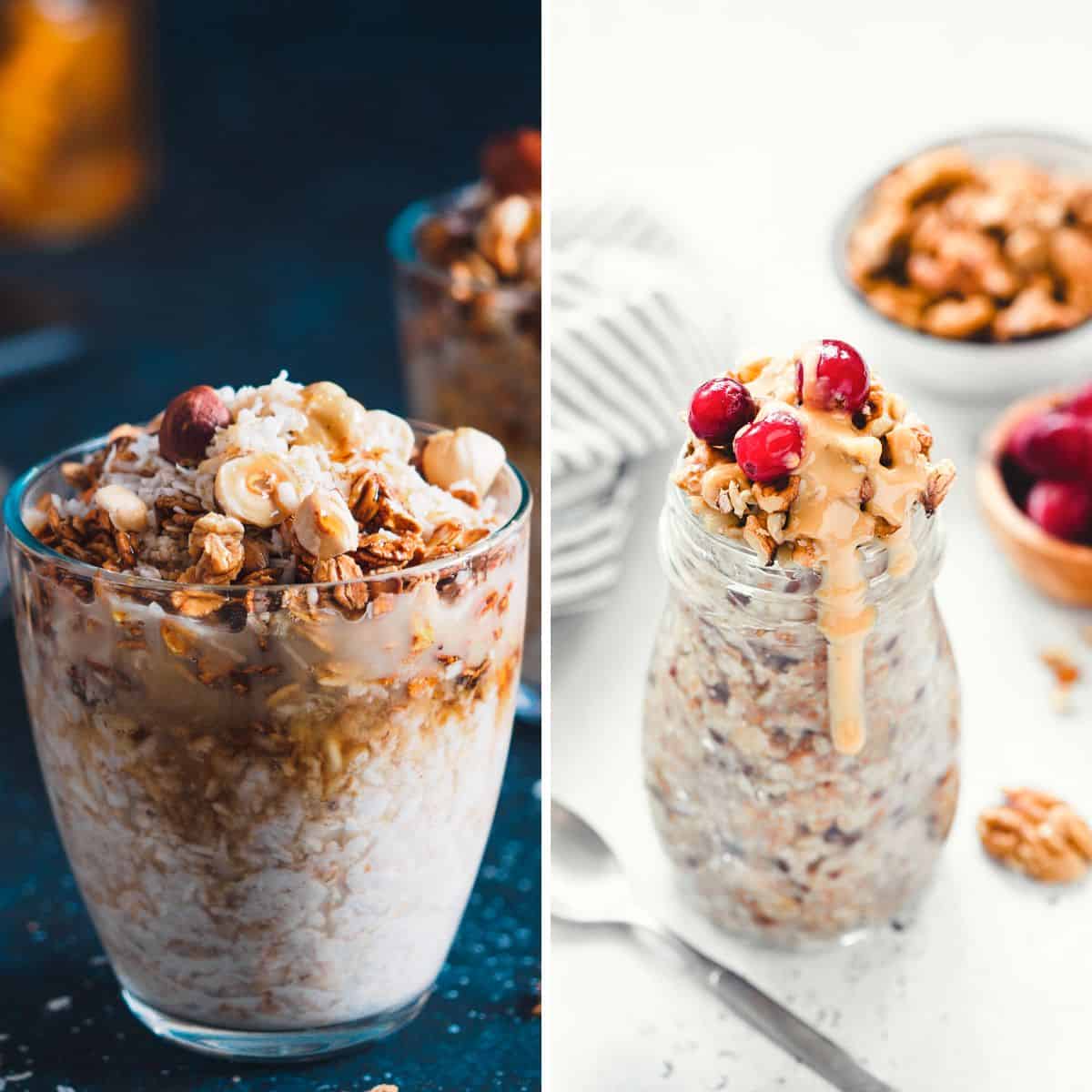 Oats can be soaked in water and yogurt
If you want to make overnight oatmeal with yogurt and water, first soak the oats in water. Then, when you are ready to eat the oats, stir some yogurt into them.
To make overnight oats with a combination of water and yogurt, adding ½ cup of water to ¼ oats works fine, and do not use ¾ cup of water as later you will be adding yogurt to the mix.
The reason you need to add less water is because it also uses yogurt. If the soaked oats become thick, yogurt mix can make the consistency normal.
Depending on the ingredients, we can add water to our recipes by making them often.
The simple answer is to keep it ¼ cup oats and ¾ cup water to get it perfect or ¼ cup oats to ½ cup water for a thick consistency.
Water and chia seeds
Soaking oats with chia seeds may need more water as chia seeds tend to absorb more water, and in this case, going with ¼ cup oats and ¾ cup water rather than ½ cup works well.
If you plan to add yogurt in addition to water, in such case adding ½ cup water too works well, as yogurt is a liquid that can quickly normalize the consistency.
Suggested
Chia seeds for weight loss
Tips
If the soaked oatmeal is too thick, you can add water, yogurt, or other milk to thin it out. Stir the mixture well before adding any toppings.
Add more liquid or water to seeds if you are adding oats or seeds. They require more water to absorb.
Keep the oats to water ratio at 1:1, 1: 1.25, or 1:1.5 ratio. However, do not exceed this as it can cause a thin consistency.
If you are not willing to add ¾  up water to ¼ oats, go ahead by adding ½ a cup of water and soak the oats as this ratio works well to soak; after soaking add a little liquid and stir if the consistency is thick.
Before adding nuts and fruits toppings, mix all ingredients together, including liquids, sweeteners and blendable ingredients.
You can combine water and dairy, or other non-dairy substances, by adding both liquids in equal amounts to soak the oats.
To get the best taste, sprinkle some salt on the oats while they are still warm.
What is the best way to make overnight oatmeal?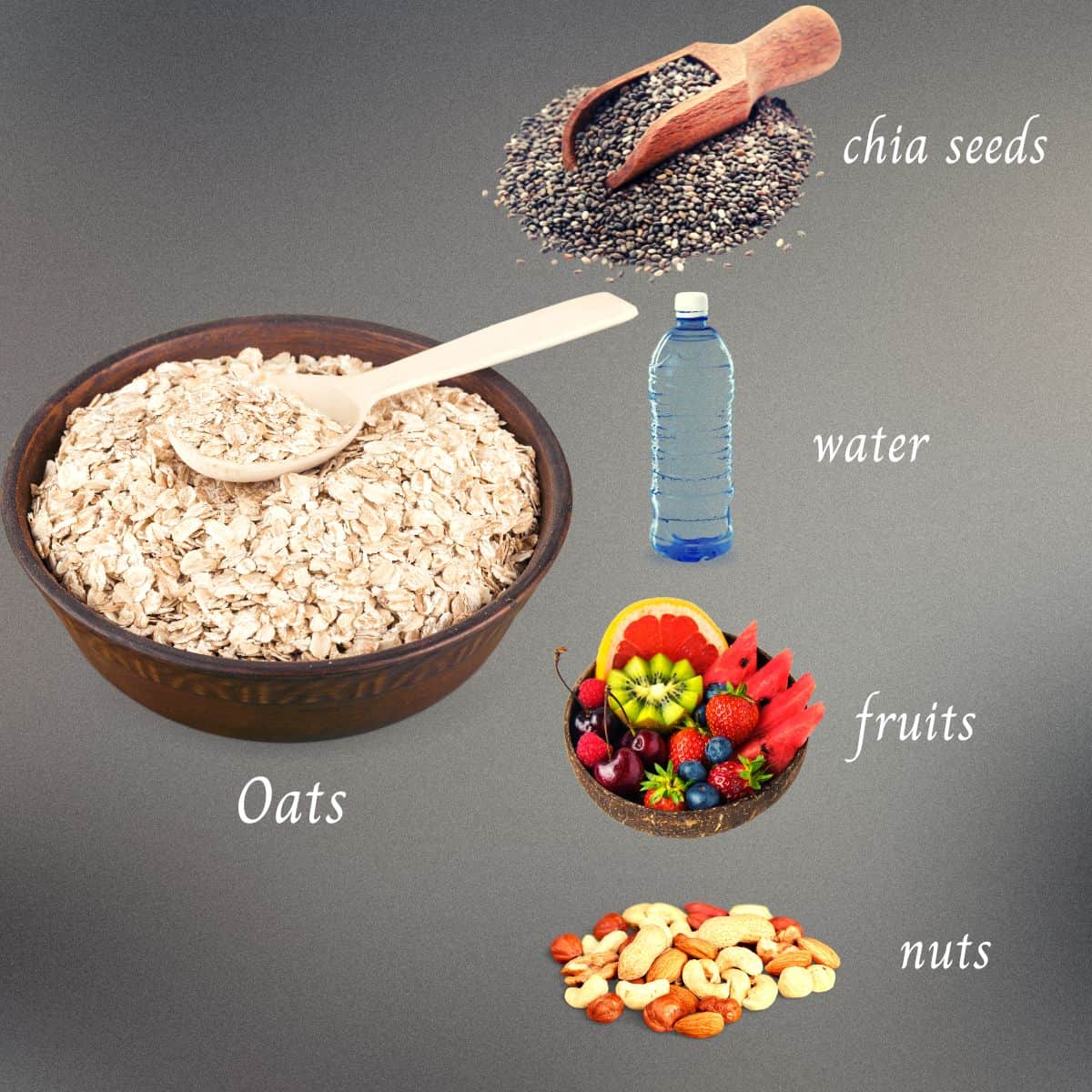 Let us now examine the ingredients necessary to make simple overnight oatmeal with water.
The image shows the minimum requirements for making a quick meal.
Oats: You can use any oats including instant oats. However, to get the most out of the oats you should use old-fashioned oats. 
Water:You can soak oats in water if you want to make plain oats but later add liquids or creamy substances, such as yogurt, milk, or other dairy products.
Toppings:To make it colorful and nutrient rich, you can use dried fruits, nuts, or freshly chopped fruits.
Layerings:Mix the oats with peanut butter or almond butter. You can also add other flavors such as cocoa powder. 
The combination of jam and soaked oats makes this dish appealing and colorful.
Sweeteners:Maple syrup, honey, and brown sugar can be added to make it sweeter and more delicious. It also provides enough calories.
Toppings
Depending on how you like your food, you can use simple toppings or more complex toppings.
Fruits:Simple toppings include single fruit, sliced bananas, blueberries, strawberries, mangoes, chopped apples or apples, or any other fruit that you like.
Mixed fruits Other toppings include adding mixed fruits such as blueberries and strawberries to the cake.
Nuts:Rich toppings include mixed nuts, fruits, and sweeteners to enhance the nutritional value of the dish.
Nuts can include nuts such as almonds, chopped walnuts and pistachios.
Jam layeringsAdd strawberry jam, or any jam of choice, to your soaked oats as a layer.
Butter:To make different types of oats, peanut butter or almond butter can be added to the soaked oatmeal.
Spices and SeedsGround cinnamon is often added to oats while they are being soaked. Other seeds such as flax seeds and chia seeds can also be added while they are being soaked or used as toppings.
How long do you soak? 
4 hours is enough to soak oats. However, if you plan on having them for breakfast, prepare them in advance in 3-4 mason containers. 
Allow them to soak overnight to allow the water to absorb well. Then, you can eat them the next day.
If you plan to snack on oats, you can usually eat them within 3 to 4 hours of their soak.
Storage
If you plan to make overnight oats for breakfast throughout the week, soak them in separate airtight mason containers and then let them cool in the fridge.
Refrigerated oatmeal is edible and can be eaten for up to four to five days. However, it is important to ensure that they are stored in sealed containers or jars.
Take them out of the fridge, add your favorite fruits or nuts, and then enjoy.
Benefits
Soaked oats are more nutritious than instant oats and quick oatmeal. They contain more fiber, protein, calories, and nutrients than instant oats.
Overnight oats are more nutritious, have a higher level of vitamins and minerals, and are easier to digest.
Overnight oats are easy to make and can be prepared in a single batch in 4 to 5.
It is easier to prepare overnight oats for breakfast ahead of time for the whole week.
Oats are rich fiber which slows down digestion and keeps you fuller longer. This helps you avoid hunger pangs, weight gain, and overeating.
Weight loss
This high-fiber breakfast oatmeal is slow to digest and burns calories while you do daily activities. It also prevents you consuming unhealthy foods that could lead to weight gain.
Regular consumption of fiber-rich cereals can help reduce fat and cholesterol, as well as regulate blood sugar levels.
Oats are a healthy choice for people suffering from obesity, weight gain, and heart problems. They are fiber-rich and have all of the properties to help those with these conditions.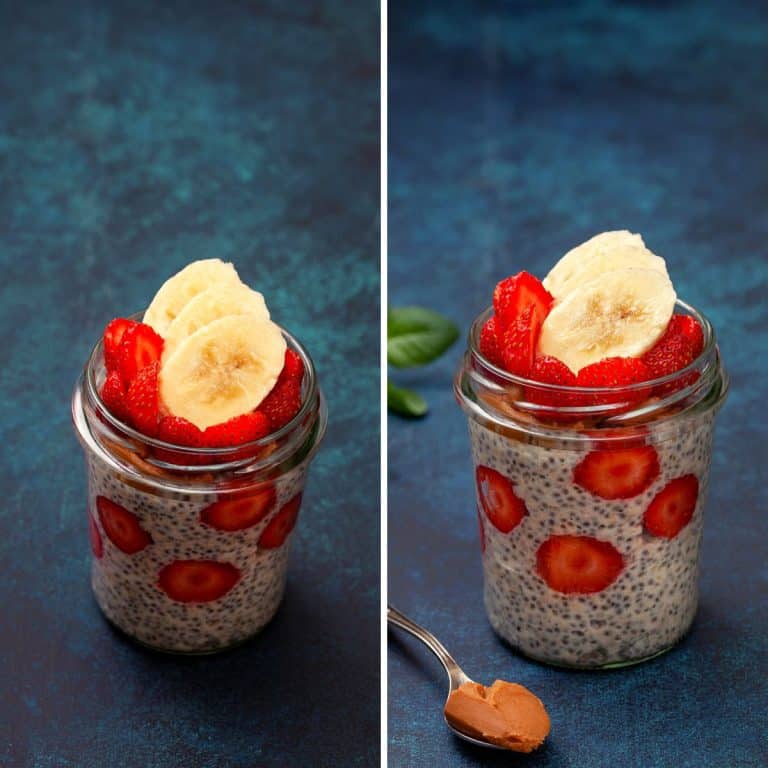 Overnight oats with water (without dairy)
Delicious indian cuisine
It is quick and easy to make overnight oatmeal using only water.
Ingredients  
To soak:
½

Cup

Oats made from old-fashioned oatmeal

You can also use instant oatmeal

¾

Cup

Water

1

Spoon

chia seeds

pinch

Salt
Toppings:
1

Spoon

Honey/brown sugar/maple syrup

¼

Cup

Freshly chopped fruits and berries

If you need more, multiply the amount.

3

Spoon

Chopped nuts

(almonds, pistachio, raisins)
Instructions 
Soaking:
First, take a mason container and add half a cup oats to it.

Three fourth cups of water should be added.

Stir in the chia seeds and salt.

Cover the mason jar's lid.

Let it cool in the refrigerator for at least 4-6 hours or overnight.

When you are ready to eat, take out the soaked oatmeal from the fridge and add honey, maple syrup, or brown sugar.
Toppings:
Add toppings of freshly chopped, whole, or sliced fruits such as bananas, blueberries, strawberries, and more of one's liking.

You can also add chopped dried nut pieces to enhance the flavor and give them desired toppings.

Enjoy them for breakfast, or as snacks.

A healthy breakfast is a healthy option.
Notes
You can also add other toppings like pitted dates. Enjoy your meal.
You can add yogurt, or any other dairy to the top to enhance the flavor.
Adding chia seeds may need extra water, and ½ cup may not be sufficient; therefore, add ¾ cup of water.
If you add ½ cup of water, there are no issues; make sure to add desired liquid after soaking oats to have a better consistency.
Chia seeds can be added or removed if you don't enjoy its flavor.
If you are looking to reduce calories, you can skip adding chia seed and instead add more fruits.
Nutrition
Nutrition Facts
Overnight oats with water (without dairy)
Serving Size
Calories 488
Calories starting at Fat 198
% Daily Value*
Fat 22g34%
3g of saturated fat19%
Trans Fat 0.02g
Polyunsaturated Fat 7g
Monounsaturated Fat 11g
Sodium 21mg1%
Potassium 438mg13%
Carbohydrates 66g22%
Fiber 12g50%
Sugar 24g27%
Protein 13g26%
Vitamin A 190IU4%
Vitamin C 2mg2%
Calcium 127mg13%
Iron 4mg22%
* Percent Daily Values are based on a 2000 calorie diet.
WANT VIDEO RECIPES TO WATCH?
SUBSCRIBEUS ON YOUTUBE
Faq's
Can I substitute milk with water?
You can use water without adding milk. Later, you can add flavorful toppings to make it easier to drink. Adding milk to a recipe can lead to a significant increase in calories. In this case, you should use low-fat milk, almond or yogurt.
If you don't have water, you can use yogurt (optional) to make the overnight oats. The differences in taste, nutrients, and the benefits of each liquid are what make them different.
Add milk to get a creamy flavor. For a plain, simple flavor, add water.
Does overnight water with water work for weight reduction?
Yes, slow digestion helps to keep weight under control because oats are always high in fiber and protein.
A healthy lifestyle and a healthy diet can help you lose weight quickly.