You might like to swap a meal for a weight loss smoothie, and stay healthy. This smoothie is a great way to lose weight and to add to your healthy diets to cut calories.
This blog features many healthy smoothies and drinks. I hope to help my readers find healthy recipes and provide detailed information about each recipe.
You can find more recipes on the blog.
Jump to:
About the recipe
This easy meal replacement smoothie for weight reduction has simple ingredients and a mixture of fruit and vegetable to make a complete meal. It can also be used to replace high-calorie breakfasts.
This recipe helps you burn calories by reducing calories and keeping your appetite at bay.
The body burns calories but does not gain an appetite. One can continue with regular activities and not eat unhealthy foods.
The smoothie contains simple ingredients like blueberries and vegetables such as avocado and spinach.
This smoothie is also rich in healthy ingredients such as chia seeds, almond milk, and can be used to replace high-calorie meals.
This low-calorie smoothie is high in fiber and protein. It can be used as a meal replacement for breakfast, lunch and dinner.
Ingredients
Blueberries:This smoothie can be made with fresh or frozen blueberries. The smoothie's taste and nutritional value will not change.
Avocado:After cutting the avocado in half, it must be ripe. The seed must be thrown out.
Almond butterButter, such as peanut butter and almond butter, can be used to increase calories and provide protein.
Spinach:This green leafy vegetable, which is low in calories, makes smoothies packed with nutrients and supports weight reduction.
Chia seeds:Chia seeds can be added to your diet to increase fiber. You can also add them to the smoothie by topping it or blending them in.
Almond milkA smoothie needs liquid to blend well. Almond milk makes it a nondairy smoothie and provides additional nutrients that other fluids (such as water) do not.
Cinnamon:This spice can be used in cooking to promote weight loss and has many medicinal properties.
You can skip the cinnamon flavor if you don't like it. However, it is not a must-have.
Lemon extractTo help the smoothie burn calories, add some extracted lemon juice. But it is optional.
Calories
A glass of the weight loss meal replacement smoothie contains approximately 408 to 400 calories.
The smoothie is high in calories, which helps you to stay fuller longer. 
If you don't overeat, your body will quickly burn calories. This will help you lose weight.
You can reduce your appetite with blueberries, avocado, spinach, and other seeds. They also provide other health benefits that are related to sugar and heart health. 
You can store the smoothie in your refrigerator for the other meals by double-blending the ingredients. Once the smoothie is blended, you can store it in a container or in a jar in your fridge. The smoothie can be drank within a day or for the rest.
Is it possible for weight loss to be achieved by substituting meals with smoothies
Yes,If you are healthy and looking for quick weight-loss, a smoothie diet can work well.
It may not work in the long-term because the body needs many more nutrients and supplements to keep it running and maintain good health.
Here are some other healthy recipes
Benefits
Blueberries
These blue-colored, tiny berries can be eaten anytime to lower cholesterol and maintain a healthy heart.
Blueberries are great for people who are trying to lose weight because they are high in fiber and lower cholesterol.
These blueberries are a good source of vitamin C, which helps keep the skin healthy.
They can also help maintain or regulate sugar levels and prevent other life-threatening diseases like cancer.
Consume at most one cup of blueberries each day, add them to smoothies and muffins, or any other recipe you like, to reap the health benefits.
Avocado
These healthy fats are vital macronutrients for healthy growth.
Avocado fats aid in fast calorie burning and increase the rate of other fats.
Avocados are high in calories so limit your intake. However, avocados can be added to healthy diets in moderation to promote weight loss. 
Avocados reduce appetite and help you burn calories faster.
Almond butter
Almonds are a good source of protein and fiber. This helps to digest food slowly so that one doesn't overeat or gain calories.
Almond butter is a healthy and protein-rich ingredient that can be used to make a nutritious meal smoothie.
Use almond butter in tablespoons. Do not add more as they can spike your calories.
Spinach
This leaf is high fiber, but its best feature is its low calories. 
We only need good fiber and low calories to eat a healthy diet.
You can lose weight by including this green leaf in your meal replacement smoothies.
Spinach has impressive properties to control your diabetes as well as helps relieve stress and tension, and as we all know, its other best benefit is boosting the eye's vision.
Similar
Almond milk
Any liquid works, but almond buttermilk is the best. It provides the smoothie's protein and is low in fat.
Use only pure almond milk. It must be unsweetened without added sugars.
Sweetened almond milk can increase sugar and carbs, making it unhealthy. 
Before buying, ensure that it is free from any contaminants.
Similar
Almond milk smoothies
Chia seeds
Fiber is vital in our daily diet. These seeds can provide fiber for the body.
You can either add them directly or soak them before adding them. Chia seeds provide enough calories and fiber to make them a great food to use in recipes like smoothies or drinks.
Similar
Chia seeds water
Cinnamon and lemon
These ingredients are essential as they aid in digestion and metabolism, as well as their weight loss properties.
Add cinnamon to your smoothies if you like the flavor. It can help you lose weight and regulate blood sugar levels.
Lemon aids in digestion detoxification. It is also rich in vitamin c and can help you burn fat.
Similar
Variations and substitutions
You can add other ingredients to the smoothie. For example, strawberries or other fruits like pineapple are good additions.
If you prefer avocado to be substituted with other fruits, add more than two fruits to the recipe and skip avocado.
If you are looking to replace almond milk with greek yogurt, this is a great option.
Flax seeds powder is also an option.
If you prefer a peanut-flavored smoothie, you can substitute almond butter with peanut butter
Similar
For weight loss, try a pineapple smoothie
Storage
Keep the leftover smoothie in a sealed container and keep it fresh for at least two days.
When to drink
This meal replacement smoothie for weight reduction is the perfect drink to replace breakfast, lunch or dinner, or as a snack.
Recipe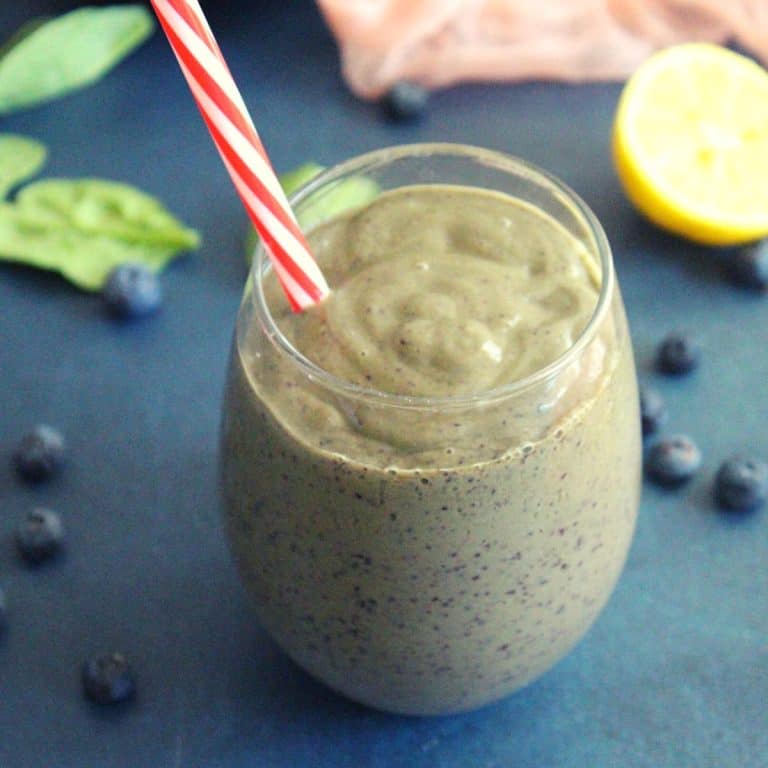 Weight loss smoothies that can be used as a meal replacement
Delicious indian cuisine
Easy weight loss smoothie recipe using blueberries and avocado
Ingredients  
1

Cup

blueberries

½

avocado

(scooped)

1

Spoon

Almond butter

1

Few of these

spinach leaves

1

Cup

Almond milk

½

Spoon

chiYou can find more information at seeds

a

Take a pinch of

cinnamon

½

Lemon extract
Instructions 
All the ingredients into a blender jar.

Add blueberries, avocado, and then continue with the remaining ingredients.

Blend all ingredients until smooth.

Blend until no lumps are apparent

Put the mixture in a glass or jar and let it cool.
Notes
Blend until chilled. You can add ice cubes to make a chilled drink, or you can skip it if you don't like it.
Nutrition
Nutrition Facts
Weight loss smoothies that can be used as a meal replacement
Serving Size (1 glass)
Calories 408
Calories starting at Fat 261
% Daily Value*
Fat 29g45%
3g of saturated fat19%
Trans Fat 0.01g
7g of polyunsaturated fat
Monounsaturated Fat 17g
Sodium 336mg15%
Potassium 751mg21%
Carbohydrates 37g12%
Fiber 15g63%
Sugar 16g18%
Protein 9g18%
Vitamin A 324IU6%
Vitamin C 25mg30%
Calcium 415mg42%
Iron 2mg11%
* Percent Daily Values are based on a 2000 calorie diet.
WANT VIDEO RECIPES TO WATCH?
SUBSCRIBEUS ON YOUTUBE
Recommendation