Today's post will focus on low-carb, high-protein meals and recipes that help you lose weight. These meals and foods can help prevent weight gain. They are also good for bodybuilding and do not cause any health problems.
Other healthy recipes are available on the blog: meal prep ideas, detox water, overnight oats, green juice weight Loss, coffee for Weight Loss, black tea recipe and lemon ginger tea weight Loss, etc.
Jump to:
What is a low carb, high protein diet?
It is a diet high in protein and low in carbohydrates. These types of diets are a great way to keep your body healthy. It helps to maintain a healthy heart and prevents diabetes.
Carbohydrates provide instant energy, but the main drawback to a high-carb diet includes weight gain. Sugars and high carbohydrate diets are easy to digest.
After they are broken, they are absorbed in the blood. This can lead to high blood sugar levels, which can cause diabetes.
A healthy lifestyle can be achieved by eating balanced, high-protein, low-carb meals or no carb meals. It can also help you manage your weight in a healthy manner.
Simpler terms will describe it as a diet that focuses on eating meals and recipes with fewer carbs and more protein. This is the best way for a fit body.
What are carbohydrates?
There are two types: simple carbs and complex carbs. Simple carbs can lead to weight gain and can be considered unhealthy. Complex carbs are healthy. Including complex carbs in your daily diet to help you prepare healthy meals will help you manage your weight.
Sugars, starches sugars, fibre, fat, protein are all macronutrients. Some carbs can be healthy while others can be harmful.
What are simple carbohydrates?
These include sugar foods, breads, ice creams and chocolates, as well as some sweet fruits. Every food that contains sugar, regardless of whether it is added sugars or natural, breaks down quickly in the body. This causes the sugar levels rise.
A lack of carbohydrates in your diet can also pose a health risk. They cause blood sugar levels drop completely. Include carbs in your diet, but in a healthy way.
High levels of sugar in foods can lead to heart disease and diabetes.
What are complex carbohydrates?
Complex carbs like starches and fibre foods can take longer to digest and keep us full.
Healthy carbs include sweet potatoes, whole wheat, brown rice, whole grains, chickpeas and black beans. They take a long time for them to break down and help maintain a healthy body weight.
Fibre is a complex carb that doesn't break down and aids digestion. These types of carbs, such as fibre rich foods, are good for digestion.
They are also energy-giving and do not add weight. However, fibre-rich foods are slower to digest and can cause lower blood sugars.
Carbohydrates are essential, but it is important to eat healthy carbs. Avoid sugary foods and avoid weight gain by avoiding carbs. Avoid confusion and eat a balanced diet to limit your carbohydrate intake.
Protein benefits
Protein-rich foods aid in bodybuilding and are the building blocks for the body. They are essential for the repair and creation of cells in the body.
Protein is broken down into amino acids, which are used by cells to repair or create new cells.
Protein-rich foods are a way to feel full without increasing appetite. They also reduce our appetite, which helps us avoid eating unhealthy foods.
A protein diet does not cause diabetes too. A protein-rich diet can prevent us from eating sugary foods that can cause weight gain. Protein foods are good for weight management and keep your stomach full.
Benefits of high-protein, low-carb diets or meals
Maintaining a balanced sugar level and eating protein-rich foods help to lower the risk of developing heart problems. It helps with digestion and weight loss, without gaining weight.
A mix of both should be used. Having high-protein foods without carbs can cause dizziness, fatigue, and loss of energy, which can lead to other health problems.
For weight loss, you should eat more protein than carbs.
To live a healthy lifestyle, it is important to eat a balanced diet. Do not eat a low-carb diet or a high-protein diet. It is better to eat healthy recipes.
Cons of high-protein diet
Protein-rich foods can contain unhealthy fats which can lead to heart disease and bone problems. High levels of protein can lead to high cholesterol.
Always choose healthy foods that are high in protein and fiber.
Low carb, high protein foods
You can snack on a variety of high-protein and low-carb foods to keep you full all day.
These foods include almonds and eggs, milk, lean proteins, salmon, chicken breasts, walnuts, greek yogurt, cheese, etc.
Salmon or chicken can be used in main meal preparations. As snacks, have seeds and greek yogurtt along with fibrous fruits like apples and berries. They provide energy and improve digestion.
Below are low-carb and high-protein recipesThey are useful for making meals, lunches, dinners, snacks, vegetarian dishes, and weight loss.
Similar recipes
Meals under 200 calories
Breakfast ideas that are low in calories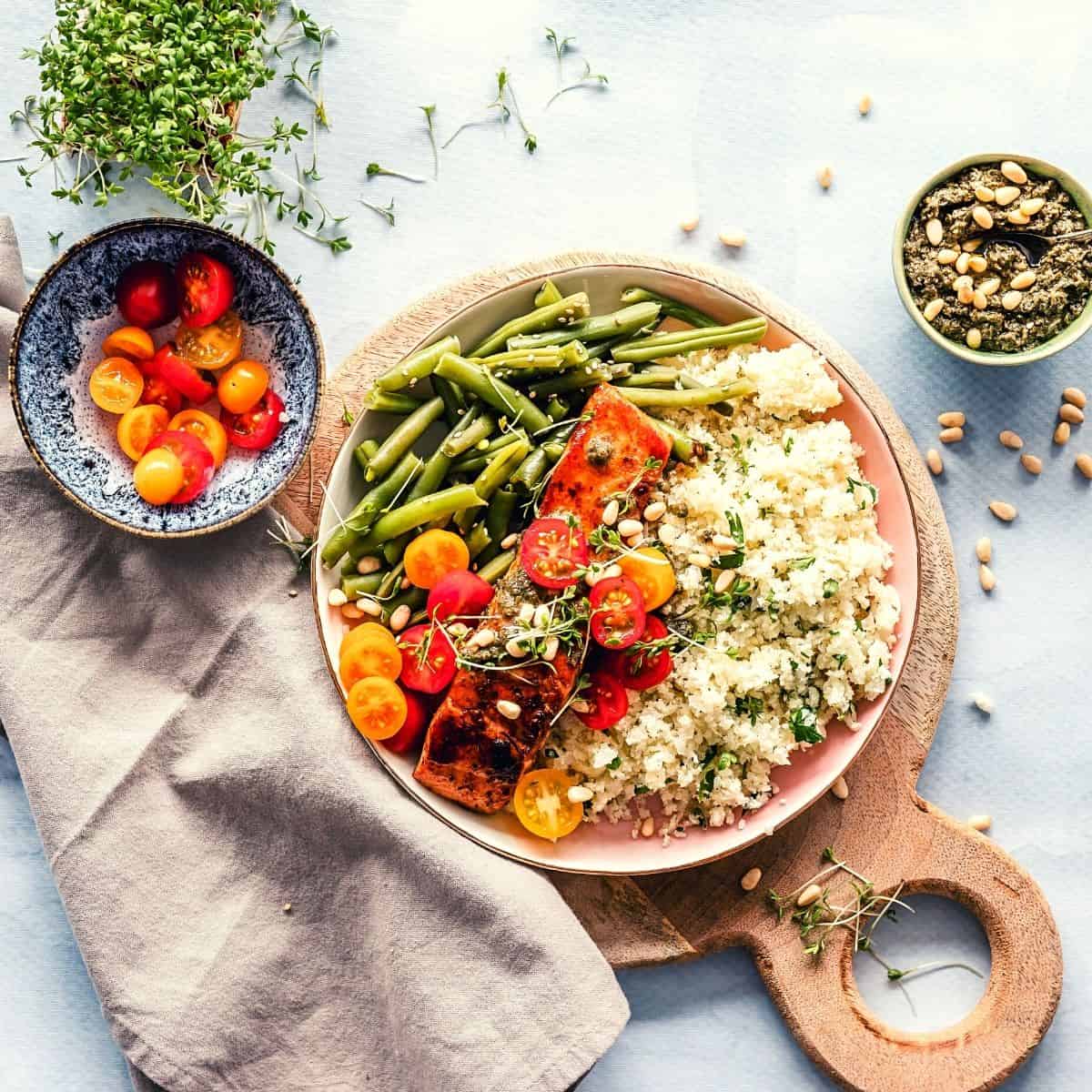 Recipe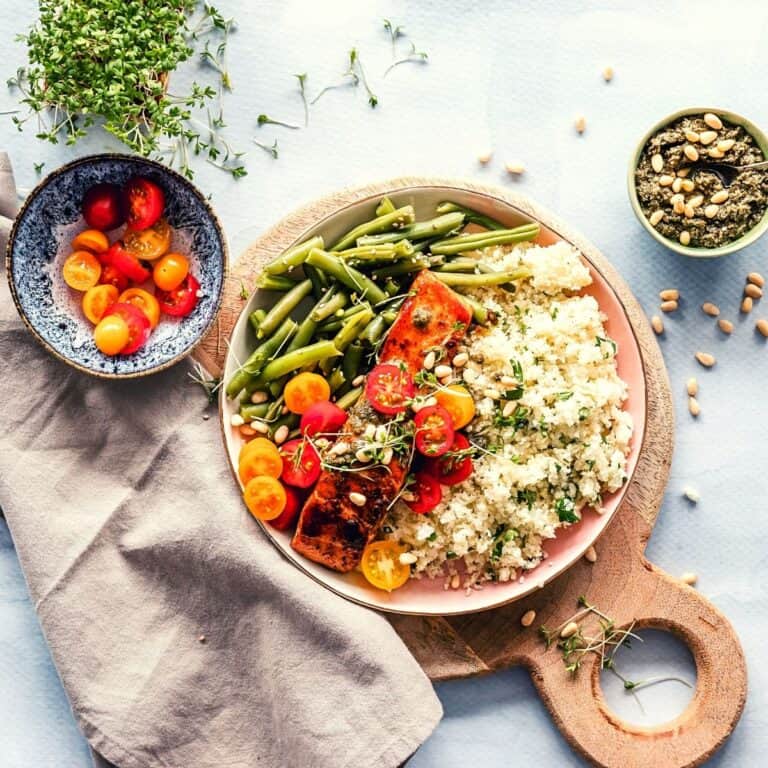 Weight loss with low carb and high protein recipes
Delicious Indian cuisine
For meal prep, make this weight loss low carb high protein recipe.
Ingredients  
Tuna Omelette
2

eggs

1

Cup

spinach

( chopped

¼

Cup

cheddar cheese

(or shredded cheese).

¼

Cup

Tuna minced or ground
Baked chicken salad
1

Medium-sized chicken breast piece

¼

Take one teaspoon

Powdered black pepper

Salt to taste

1

Use the following as a guide:

olive oil

1

Take one teaspoon

Lemon extract

¼

Cup

corn

A few lettuce leaves

¼

Cup

Red onions sliced

¼

Cup

cherry tomatoes, chopped

4-5

Broccoli florets

¼

Cup

Boil chickpeas

Salt as required

¼

Take one teaspoon

Powdered black pepper

1

Take one teaspoon

Lemon juice

¼

Cup

cilantro leaves
Cauliflower fried potatoes
1

Use the following as a guide:

Olive oil

1

Use the following as a guide:

minced garlic

150

gms

Chicken breast. Cut into small pieces

¼

Cup

Boiled or frozen peas

¼

Cup

Chop carrots

1

Cup

cauliflower, riced

2

eggs

1

Take one teaspoon

soy sauce

1

Use the following as a guide:

sriracha sauce or chili garlic sauce

Salt to taste
Instructions 
Tuna Omelette recipe
Mix eggs in a bowl and beat them well.

Mix the chopped spinach and cheese with the eggs.

Mix everything together with ground tuna.

Salt may be added if needed.

Use olive oil to coat a pan.

Spread the mixture.

Cook both sides well and serve.
Baked chicken salad
Season the chicken breasts with salt, pepper powder and olive oil.

You can also add other spices like oregano and basil to the recipe.

Marinate for 10-15 minutes.

Preheat the oven to 180°F and bake the chicken 20-25 miutes.

Cut the baked bird into small pieces.

Use vegetables such as tomatoes, lettuce leaves, corn and chickpeas to make salad.

You can add other healthy vegetables if you wish.

Mix everything together.

Add the baked chicken and veg to the healthy vegetable salad.

Baked chicken salad is ready for you to enjoy.
Cauliflower fried potatoes
Heat oil in a pan.

Mix minced garlic and chicken, then cook the pieces of chicken until well done.

Add peas, chopped carrots, saute few minues.

Stir in the riced cauliflower.

Add the beaten eggs, cook for a while, and then scramble the eggs.

Mix well and add salt to taste, black pepper powder, soy sauce, and sriracha sauce.

Sauté for about a minute, and then serve hot.
Notes
The above nutrition values are for chicken. However, all the recipes have good proteins and fewer calories.
Nutrition
Nutrition Facts
Weight loss with low carb and high protein recipes
Serving Size
Calories 150
% Daily Value*
Sodium 310mg13%
Carbohydrates 13g4%
Sugar 7g8%
Protein 17g34%
* Percent Daily Values are based on a 2000 calorie diet.
WANT TO WATCH VIDEO RECIPES?
SUBSCRIBEUS ON YOUTUBE
This dish is a complete meal thanks to the combination of chicken and vegetables. This wrap has a high protein content due to chicken.
Simple chicken filling with onions, avocado, and stuffing in tortillas is a healthy way to eat food. Simple lunch or dinner recipe.
2. Wrap with low carb, high protein chicken pepper crunch wrap
Another easy wrap is to use rotisserie chicken pieces with some vegetables. Wrap this filling in wraps for a light meal.
Healthy wraps and chicken are two of the best ways to lose weight.
3. Air-fried chicken breast nuggets
Air-fryer recipes can be healthy and delicious.
Airfryer chicken dishes are easy to make. All you need is some oil.
This is the perfect meatball recipe for those who love to eat chicken or turkey recipes. This recipe uses a basic seasoning to combine with ground turkey or lean poultry and is then made into balls and baked.
You can either eat them straight or mix them with any sauce or dip to make them more delicious. However, the cooking temperatures can vary.
5. Shrimp avocado tomato salad
Shrimp also falls under the high protein and low carb categories. Making a salad from sauteed shrimp with vegetables is a healthy and delicious way to use shrimp.
You will notice a difference in your daily diet when you add low-carb healthy vegetables like avocado and tomato salad.
6. Sheet pan low carb, high protein chicken meal
This simple chicken dish is made with broccoli and seasoned chicken that you bake in the oven.
Broccoli is an excellent choice for weight loss as it is low in carbohydrates, can be used with many main meals and is healthy.
7. High protein vegetable and egg bake
Mixture of egg whites with healthy vegetables such as spinach, mushrooms and broccoli.
Spread the egg mixture in a pan and bake well. This is a great recipe for high-protein and low-carb meals that you can store in your refrigerator. A good choice for a quick breakfast.
This is a great low-carb, high-protein bowl mix that includes minced cabbage and healthy vegetables like broccoli and cabbage. It's a high-protein recipe because it also includes tofu in its recipe bowl.
This dish is great for vegetarians and can be made using only vegetarian ingredients. The almond sauce will make it high in protein and lower in carbs.
This simple smoothie is a great breakfast recipe that includes the above ingredients and greek yogurt modifications.
To make it a healthy beverage, you can add spinach or other healthy veggies.
10. Pumpkin chia protein smoothie
Another smoothie contains pumpkin, chia, and almond milk. This makes it a healthy smoothie with less calories.
11. Soup high in protein, low in carbs
A vegetable soup made fresh with chickpeas (cannellini beans), chickpeas (chikpeas), and other veggies like cabbage, broccoli, and bell pepper. It can also be loaded with many other vegetables.
This simple recipe for ground chicken is prepared by sauteing coleslaw mix, green onion, and pepper. It can be served with brown rice, quinoa, or any other low-carb dish.
These protein snacks are super cool and contain fewer carbs. They are made from bananas, protein powders, and protein-rich whites.
You can store them in the refrigerator for later usage. You can reheat them when you need them for snacks or breakfast.
Salmon is best when baked. This seafood is rich in omega 3 fat acids and is one of the healthiest seafoods. Bake salmon with basic seasoning. Include it often in healthy meals.
This is a recipe for baked salmon in teriyaki. This is a simple recipe that you should try if you are on a diet.
15. Grilled Salmon with Avacado salsa
Avocado salsa is a healthy low-carb lunch or dinner recipe that's high in protein and low-carb. Salsa is a type of salad that includes avocado pieces, tomatoes chopped and onions, as well as lemon juice. Salsa is good with salmon or baked chicken.