Healthy meal prep ideas and recipes are essential to a healthy diet plan.
A balanced diet is essential to ensure that the body receives the right nutrition. This will help you to stay fit and healthy. Check out my post on detox water weight reduction, low carb high-protein meals, vegetable salad and low-calorie breakfast recipes.
Jump to:
About the recipe
This post will cover recipes that are useful for people who are always looking for ways to reduce their weight. I will also discuss the pros and cons involved in preparing meals.
It will also include information about the containers that you should use and details about what meal prep is all for.
What does meal prep mean?
Meal prepping is a method of preparing meals ahead and storing them in a safe place.
It can be exhausting to prepare meals after a long work day. A meal plan can be prepared ahead of time to make it easier to prepare meals a week before they are due.
A busy person can save time by having ready-to-eat meals on hand and heating them right before they are served.
This post is about how to lose weight by cooking meals ahead. It can be stressful to prepare meals the same day.
Many women look for recipes and ideas to keep their bodies full and help them work efficiently. Regular outside food should not cause you to become sick.
It is important to eat healthy meals if you want to lose extra weight.
All the nutrients needed to reduce body fat should be included in the meals. Eat the meals and feel full. To lose weight, you can also do this. You can eat a restricted amount of caloriesIn a single day.
Types of meal preparation
There are many ways to meal prep.
Another way is to keep all ingredients chopped or cut ready for the week, which will speed up the cooking process.
Other meal ideas such as meals less than 200 calories are also available. They are quick and easy to make, and they are healthy.
What are the benefits to healthy meal prep?
It can take a lot of time to cook every day. Imagine returning home, planning meals and cooking dinners for the next day.
Making meals can be as simple as making one meal a day or three meals a night. Storing them on Sundays can allow you to think about other activities that day.
Spending time with the children and less time in the kitchen can be a plus. One can also help with household chores. It is important to take some time for yourself and have a relaxing day.
Grocery shopping has become a reality It's easy
Planning meals ahead of time will allow you to list everything that needs to be purchased to make the meal. This will make shopping easier and can help you live a more organized life.
A list of all the food, snacks, and vegetables we want to buy at the store for the week reduces stress. What to make? etc…
Imagine eating outside food that is expensive. However, planning and preparing can help you save money by avoiding eating outside food.
It can be costly to eat three meals per day or one meal outside. Preparing and planning can help you save a lot of money.
Pros of meal prep
There are always pros and cons to any benefits. It can be exhausting to prepare large quantities of meals for a whole week. In some cases, it can even take up the entire day. Plan your meals so that you can make them in just 1 or 2 hours.
The kitchen can get messy from large-scale cooking, which can cause it to be difficult to clean. If food is prepared in batches, it can be monotonous to eat the exact same food every day.
If the food is not good, it's best to eat them. This can lower your energy levels.
How do you store your meal prep food?

You should store them in sealed containers or high-quality food-grade containers. There are many containers that come in different sizes and shapes. Some even have sections that can be used to store various snacks, meals, and fruits.

Containers can be made of any material, but they must be safe for food storage, microwave safe, and oven safe to allow the food to be reheated.
Tips to store food
Use safe, high-quality containers that can be used to store food in the fridge or freezer
Once the cooking is complete, do not store the food. Allow the food to cool completely before storing it.
The food will lose its flavor if it is kept for longer than 3-4 days. It also loses its nutritional content.
Make sure you schedule meal prep twice a week to ensure that it doesn't become boring eating the same food every day. You can also make changes to your diet and include healthy options when preparing meals.
Always label or write dates on containers.
Prepare the food in a microwave and thaw it before reheating.
Do not reheat the same thing over and over again.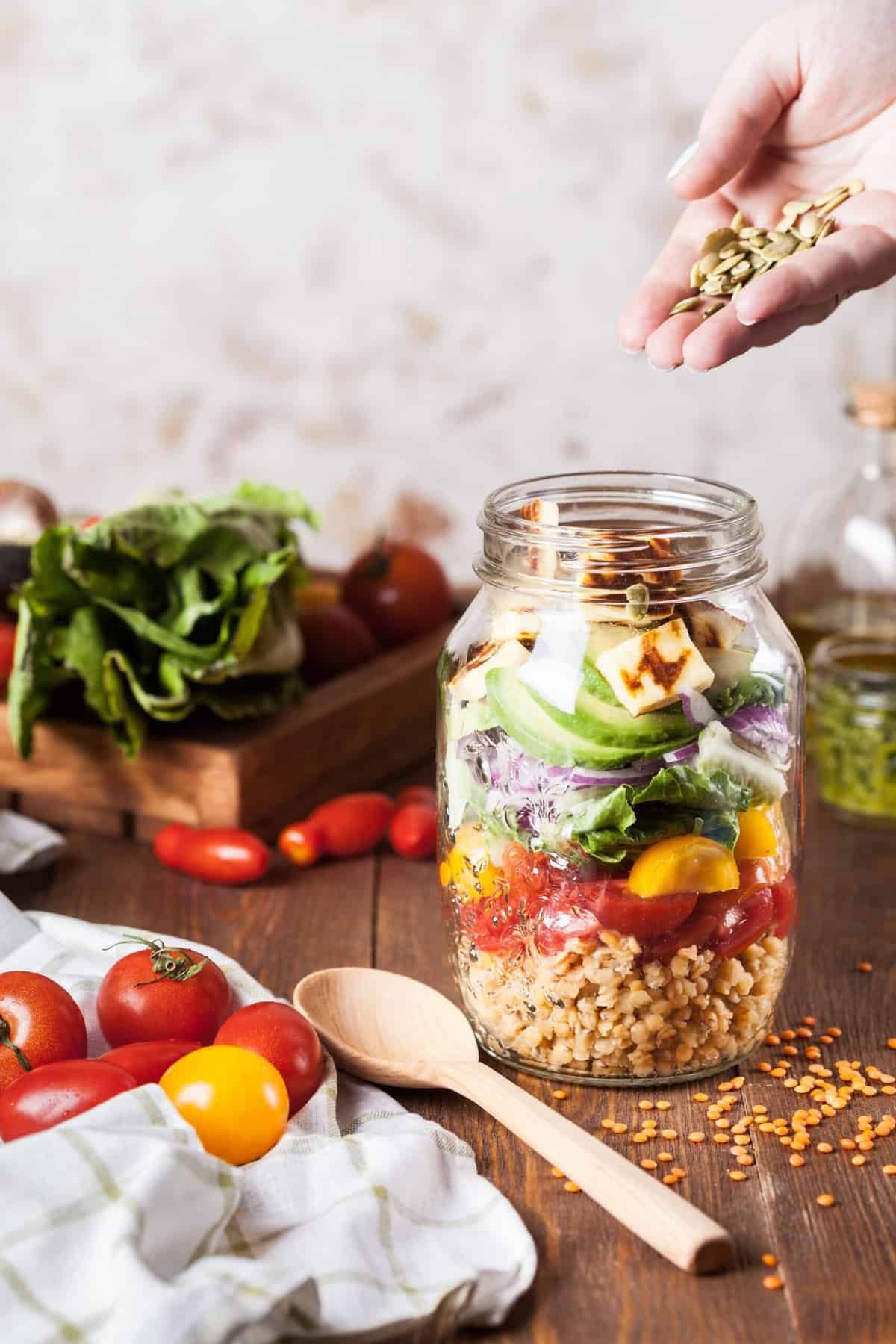 Quick meals to pack
For a successful weight loss program, you should always use a mix of low-carb and protein meal prep. Here are some healthy meal prep and quick food options to use during meal preparation.
Fruits:Keep some fruits on hand to keep you full. If they are needed to be chopped or cut during meal preparation, chop them. You can choose from apples, bananas and berries, as well as mangoes, watermelon and mangoes, kiwi, strawberries and berries.
Salads:Salads are a great choice for meal prep. Salads should include spinach, boiled chicken and peas as well as lettuce, tomato, and broccoli.
Oats, whole grains and other cereals:Whole-grains such as brown rice or quinoa can be paired well with lean meats. You can also prepare overnight oats to lose weight.
Snacks:Healthy snacks include nuts, seeds, raisins and berries.
Veggies:Vegetables such as tomatoes, cucumbers, mushrooms, tomatoes, and beans of various kinds are all healthy options when preparing different meals.
Eggs, dairy and lean beef:Eggs and meat are good options for meal prep because they have high protein levels. Low-fat milk and greek yogurt are good options.
Smoothie prep: Place all ingredients into a ziplock and freeze them. Blend them the next day.
Recipe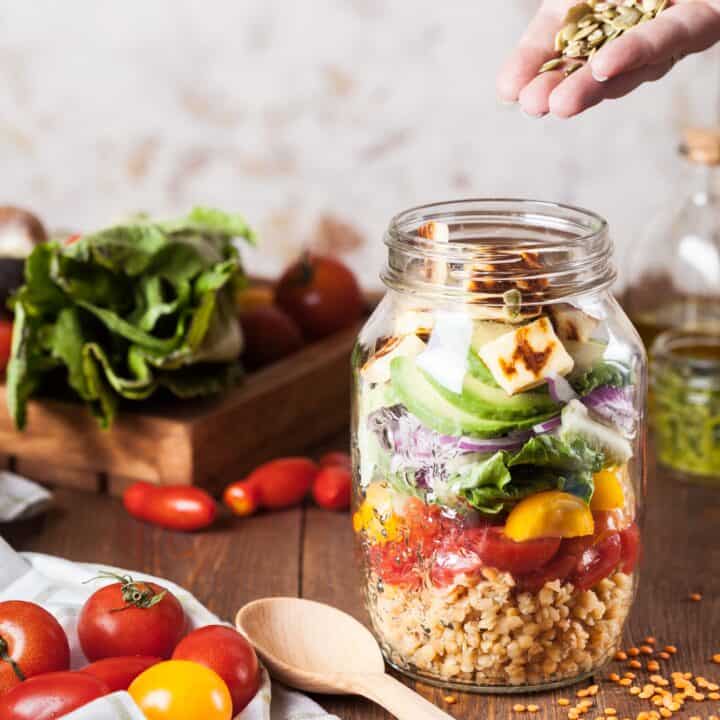 Healthy meal preparation recipe for weight loss
Delicious indian cuisine
Easy and simple meal prep to lose weight.
Ingredients  
Breakfast
½

Cup

Oats

1

Cup

Almond milk

¼

Take one teaspoon

cinnamon

2

Spoon

Protein powder

½

Cup

Freshly chopped frozen fruits

(berries and any fruit)
Lunch
1

Cup

cooked quinoa

1

Chicken breast piece

¼

Take one teaspoon

Pepper powder

¼

Take one teaspoon

Salt

4-5

Green capsicum strips

4-5

Strips of yellow and red capsicum

2

Spoon

tomato sauce

1

Take one teaspoon

Olive oil
Snack
¼

Cup

Apples

¼

Cup

Berries

(strawberries, blueberries)

¼

Cup

Grapes

2 tbsp

nuts

(almonds sliced)
Instructions 
Breakfast
Take a large container and add whole grains oats.

Add protein powder.

Add almond milk to the oatmeal.

Mix everything together with a pinch of cinnamon.

Cover the containers with plastic wrap and place them in the refrigerator overnight.

Make 4 to 5 conatiners per week in the same manner and store in the refrigerator.

Enjoy any frozen chopped fruits or fresh chopped preserved fruits such as strawberries or apples while you are serving.

Ready for breakfast on 4-5 days a week?
Lunch or dinner
Place a breast of chicken on a baking tray or sheet. Spray olive oil all over the chicken.

Season the chicken using any spices like salt and pepper.

Bake the chicken for 25 to 30 minutes at 425°F in the oven.

Cut the baked chicken into small pieces.

Put the chicken strips in a pan.

Mix and toss the chicken.

In a separate saucepan, roast the bell peppers lightly or toss them in olive oil. Season with salt and pepper.

Use meal prep containers that have different sections.

Place 1 cup cooked Quinoa in one section, roasted bell peppers in the second section, and cooked chicken in section 3.

Cover the container with a plastic wrap and keep it in the refrigerator for no more than 3-4 days.

Microwave the ready-to-eat food when you are ready to eat it.
Snacks
You can snack on chopped fruits, bananas and berries, greek yogurt, nuts, etc.
Notes
Lunch and dinner menus
Steamed broccoli or green beans can be substituted for roasted bell peppers with sauteed asparagus.
You can also substitute quinoa with whole-grain foods like brown rice or whole grain pasta.
Nutrition
Nutrition Facts
Healthy meal preparation recipe for weight loss
Serving Size
Calories 606
Calories starting at Fat 117
% Daily Value*
Fat 13g20%
2g Saturated Fat13%
5g Polyunsaturated Fat
Monounsaturated Fat 4g
Cholesterol 47mg16%
Sodium 1123mg49%
Potassium 795mg23%
Carbohydrates 89g30%
Fiber 13g54%
Sugar 18g20%
Protein 39g78%
Calcium 466mg47%
Vitamin C 6mg7%
Vitamin A 278IU6%
Iron 7mg39%
* Percent Daily Values are based on a 2000 calorie diet.
WANT VIDEO RECIPES TO WATCH?
SUBSCRIBEUS ON YOUTUBE
Other healthy meal prep ideas and recipes
These are simple overnight oats packaged in freezer bags. It uses quick oats that have different flavours. To make a great breakfast, you can add berries, almonds and cinnamon to the oats.
This is a quick and healthy way to make a meal that you can eat quickly. It can also help you lose weight. This recipe uses rolled oats that have different fruit flavours. You can also use almond milk or low fat milk. Keep them in containers overnight.
2. Breakfast bowl with keto oats
Are you looking for a new diet? This keto bowl is a wonderful breakfast choice. This healthy meal includes flax, chia, and other seeds. It is made with greek yogurt.
Toppings can be made with peanut butter or almond butter. This meal prep can be used for breakfast and dinner. It will help you live a healthy lifestyle.
This meal prep is a healthy and delicious recipe that uses healthy veggies like Brussel sprouts and cauliflower. This meal is complete and filling. Sweet potatoes are a great addition to this recipe.
This is a great meal to prepare ahead of time for lunch and dinner.
4. Greek chicken meal prep bowl
Another healthy way to meal prep is to use simple vegetables such as tomatoes, zucchini, and lean meats like chicken breasts. Healthy meal prep can be as simple as tossing vegetables and baking them with chicken.
This low-carb, high-protein meal is a good option for weekday dinners.
Healthy meal prep using lean meats, beans, whole grains, and whole grains like quinoa. Then, you can cook them in one pot.
You can add flavor to this meal by adding chopped onions, tomatoes and parsley.
6. Sweet potato black bean bowl
This healthy meal prep bowl for weight loss uses brown rice, sweet potatoes, and black beans. To enhance the flavor of the rice bowl, you can serve it with any green dip.
This makes a wonderful meal preparation bowl for lunches or dinners. It can also be modified by adding lean meats, such as salmon or chicken breast, to the bowl.
7. Chicken salad brown rice bowl
It is simple to prepare a quick meal by cooking brown rice and chicken separately. Then, add some vegetables such as celery and grapes. These meals can be divided in small portions and stored separately in different containers. They can then be used for different days.
Brown rice is an excellent option for those who wish to lose weight.
You want to try it? It is a healthy, whole grain dish made with brown rice. This whole grain helps in digestion and weight loss. The brown rice is served with grilled chicken. A dressing made from tomatoes, basil and onions is then added to the dish.
9. Preparation bowl for ground turkey meal
It is easy to cook turkey by mincing it and then cooking brown rice with some roasted vegetables. The rice, chicken, and veggies can be divided into small portions and placed in separate containers. This makes it a nutritious meal prep bowl that you can use for many days.
It's an egg breakfast recipe similar in style to muffins, but made in keto. This is one of the most healthy meal prep options to lose fat. This muffin recipe is made with eggs, roasted chopped veggies, and mozzarella cheese. It's a healthy meal!
You can try a different recipe to make ahead. It is both healthy and delicious.
Are you familiar with any of these recipes Please leave your feedback below about which recipe you found useful or helpful.
Recommendation