Have you tried the tiktok's viral lemon juice and coffee for weight loss? Most of you haven't tried it yet. The viral claim that coffee helps you lose weight is false. Let's look at the facts and the recipe to see how effective it can be.
I will demonstrate two ways to make weight-loss coffee. However, this drink is not guaranteed to work miracles for weight loss.
There is no evidence to support this drink as a good way to burn fat.However, it only shows modest results in losing body weight.
Suggested
About the recipe
Sharing the latest trending recipe with coffee and lemon, but with a slight variation to support your weight loss goals.
This recipe uses coffee and lemon, cinnamon, ginger, which isn't the same as the viral video of the tiktok.
Although there are variations to the recipe, it is not clear that drinking lemon and coffee can lead to weight loss.
This recipe is so good!
This low-calorie drink contains lemon juice, cinnamon, ginger, and other ingredients to improve digestion.
To enhance the flavor and make it more enjoyable, you can mix the lemon juice and cinnamon with instant coffee powder.
Individually, cinnamon, ginger, or ginger have medicinal properties that aid digestion, increase metabolism, and lead to fat loss.
Coffee is a low-calorie drink that keeps you alert and gives you the energy to carry on with your daily activities.
Being active can help you burn calories and aid in weight loss.
Combining all ingredients makes it easy for you to consume all of these health-beneficial ingredients. However, limiting your intake is a smart decision since too much coffee can be harmful and have drawbacks.
Is coffee good for weight loss?
A teaspoon of coffee contains 2 to 5 calories. It is a great stimulant to add to your water and drink. However, adding other ingredients to the coffee or water can increase the calories.
It is a great way to stay awake and continue your daily activities by drinking only black coffee.
You can stay hydrated by drinking coffee without sugar twice per day. Physically activeBlack coffee is rich in caffeine, which can help increase the metabolism rate and burn calories and fat.
Caffeine found in coffee keeps you awake and active, and it helps you burn calories.
Depending on the sweeteners and sugars that we add, sugars, high calorie sweeteners, syrups or creamers can increase the caffeine content of a coffee drink by as much as 2 to 500 calories.
Therefore, A plain cup of black coffee without sugars can be slightly effective in weight loss.
While one might not see miraculous results, losing weight with just a single drink is not possible. There are many other factors that must be considered, including diet and exercise.
If you work all day and need alertness and activity, moderate coffee consumption is a good option.
Drinking coffee all day, or more than recommended, can have a negative impact on your sleep and health.
Limiting your coffee intake is a good idea. However, excessive coffee consumption can have serious consequences for your health.
Other benefits of other ingredients
Lemon
Lemon has properties that improve digestion, so adding lemon to detox drinks can help detoxify.
The two essential properties of detoxification and digestion help increase metabolism and aid in fat burning.
Lemon juice is rich in vitamin C, antioxidants, and can help with weight loss.
Cinnamon
You can add cinnamon to recipes and drinks in small amounts to aid in fat-burning.
This healthy spice is high in antioxidants and helps reduce inflammation. You can help with weight management by adding cinnamon to your lemon juice.
Ginger
Ginger is used worldwide to improve digestion.
Ginger is an ancient remedy for digestion and other common ailments. Therefore, better digestion leads directly to better body functioning.
Gingerol, a compound found in ginger, has many medicinal properties that can help fight harmful diseases in the body. Research.
Suggested
Water
Water is an essential part in daily life. It has many great properties that can keep you hydrated. You can make detox drinks with water to flush out toxins.
Water intake is a key factor in weight loss. It helps flush out toxins from the body.
Suggested
Sweetener
You can add honey to your recipes as a sweetener.
You can add it in small amounts. For example, ¼ teaspoon honey gives only 5-6 calories and can add a slightly sweet flavor to the drink.
This natural sweetener has many properties that have been used for centuries to treat colds, coughs, weight loss, digestion, and other ailments.It can be added to as many times as the reader chooses.
Note: Too much honey can increase sugar levels and calories.
Variations
Method 1 Make lemon juice separately, as per the recipe below. Then add instant coffee powder to this juice. Stir and then enjoy.
Method 2Add instant coffee powder to a glass. Add lemon extract and hot liquid, stir well and enjoy.
Method 2 does not require you to prepare lemon juice separately, as in method 1.
This is the fastest and most direct way to make the drink.
Drawbacks Coffee
Limiting the amount of black tea in plain form or adding lemon juice to your coffee only twice per day can be beneficial. However, increasing the number can cause insomnia and disrupt sleep.
It (black coffee) contains acid. Too much caffeine from coffee can cause heartburn due to acid reflux.
Any drink containing black coffee should be sipped with caution, as it can have a beneficial or negative impact.
Black coffee is the only type of coffee that contains caffeine, which is a stimulant. It is believed to reduce fat. Harvard ResearchBut excessive consumption can get you into trouble.
Can I make this with cold water?
Make a cold cup of coffee with lemon juice. Add lemon extract and cinnamon powder to cold brewed coffee. Stir and enjoy.
Another option is to add ice to your prepared drink and let it chill.
Can I add sweetness to the weight loss coffee?
If the sweetener contains high amounts of calories, such as regular sugar or sugars, it is a no-no. We aim to make a low-calorie diet drink.
Stevia extract and monk fruit extract are good options if you want to add sweetness without calories.
Honey is another sweetener to consider, but honey can have many calories so it is better to not add honey.
You can add honey to this lemon juice and coffee weight loss drink to add a touch of sweetness.
Honey is a great weight-loss ingredient, but be careful if you are calorie conscious or want to reduce your calorie intake.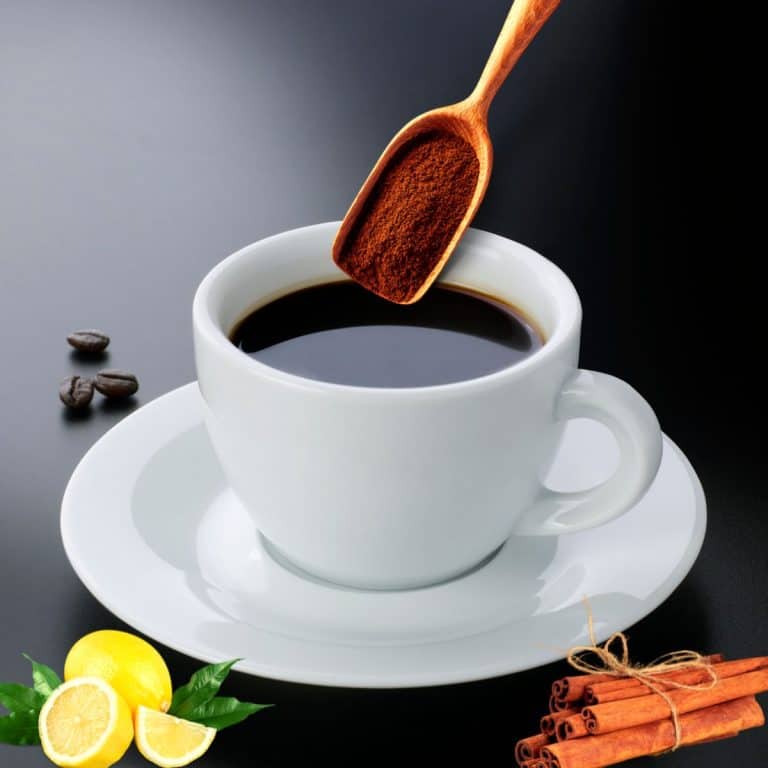 For weight loss, coffee and lemon juice are great options.
Indian food is delicious
A quick weight loss coffee made with coffee and other fat loss ingredients
Ingredients  
1

glass

Water

½

Lemon

( Cut into rounds)

2

Small

Cinnamon sticks

or ½ Take one teaspoon cinnamon powder

1

teaspoon

Ginger grated

1

Take one teaspoon

Instant black coffee powder

¼

Take one teaspoon

Honey

(totally optional)
Instructions 
Put water in a saucepan.

Add lemon slices and cinnamon sticks.

Add grated ginger and the above ingredients.

After one boil, let them simmer for at least 30 minutes.

Strain the simmered juice of the lemon.

Pour the juice into a glass.

Add a teaspoon of instant coffee powder to the juice.

Mix and serve.

For sweet and chilled flavors, you can add honey or ice to your recipe.
Nutrition
Nutrition Facts
For weight loss, coffee and lemon juice are great options.
Serving Size
Calories 43
Calories starting at Fat 3
% Daily Value*
Fat 0.3g0%
Saturated Fat 0.04g0%
Polyunsaturated Fat 0.01g
Monounsaturated Fat 0.03g
Sodium 14mg1%
Potassium 149mg4%
Carbohydrates 13g4%
Fiber 5g21%
Sugar 3g3%
Protein 1g2%
Vitamin A 33IU1%
Vitamin C 29mg35%
Calcium 93mg9%
Iron 1mg6%
* Percent Daily Values are based on a 2000 calorie diet.
WANT VIDEO RECIPES TO WATCH?
SUBSCRIBEUS ON YOUTUBE