Aloe vera juice recipeAloe vera juice is a health drink that is made from the gel and flesh of the leaf. This aloe water or drink can help you achieve your weight loss goals.
You can also find other interesting Indian drinks on our blogCelery juice and e hibiscus Tea for Weight Loss
Jump to:
What is Aloe vera?
Aloe Vera has bright green leaves and white flesh.
To extract the flesh from the leaf, it must first be peeled.
The extracted flesh can be used for various purposes. Its gel can be used to treat many issues, skin, and hair, as well as internally in the form a juice and gel.
How do we use Aloe Vera Gel and Juice?
Aloe Vera GelThe aloe verde leaf's flesh is what is used. It is then pressed or mixed well to create a gel. This gel can then be used internally as well as externally.
Aloe Vera Juice, the diluted version of the gel, is mixed with water and then eaten by adding ginger flavor or honey flavor. This juice is said have many health benefits.
Uses and Benefits
It has many health benefits for hair. For example, you can apply freshly extracted aloe verde gel to your hair. This will make your hair shiny and smooth and prevent hair loss.
Regular consumption lowers blood sugar levels, and it is good for the heart.
Aloe vera is a natural remedy for stomach problems like constipation. It also helps with proper digestion and weight control.
Aloe Vera has been gaining popularity for treating sunburns and other beauty issues. Sunburns will lighten if the gel is applied regularly to the affected areas.
Aloe vera can also keep your skin glowing and fresh if it is used regularly on the face.
If consumed in summer, aloe vera helps to keep the skin and body hydrated.
Although it is pleasant to drink the drink occasionally, excessive consumption of the gel or juice can lead to serious health problems.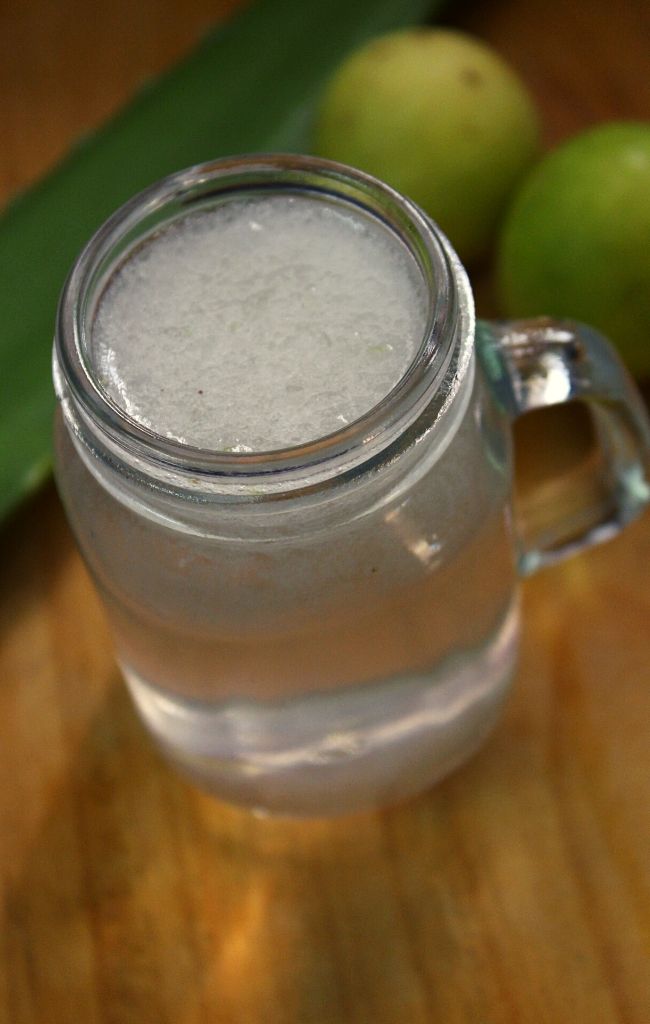 NotificationIt is not known if it has any health benefits. It is better to consume it once or twice a week than to use large quantities.
How to make this juice?
Simply take one long leaf and use a knife or a peeler to peel the skin.
Use a spoon to extract the gel.
Mix the gel with some water until it is smooth.
Mix honey, lemon extract, or grated ginger with it. This could help you lose weight.
Drink with a full stomach, or after eating, but not too often.
It is easy to make aloe vera juice. However, we need to be careful when handling the leaf. The leaf is slippery and can slip from our hands.
You can make small pieces of gel from the leaf after you have removed it. This will make the juice blend easier.
How to get aloe vera in your diet
Mixing the gel chunks in with juices, smoothies, or drinks is a great option. It is quite difficult to drink fresh aloe Vera juice, which tastes unique and slightly bitter.
Another option is to add honey to the lemon extract. This makes it more consumable and the taste becomes sweeter because of honey.
It is best to consume it empty-handed for the best results. However, it is possible to eat it anytime of the day such as after meals.
This post also includes a video of the recipe to show you how it works.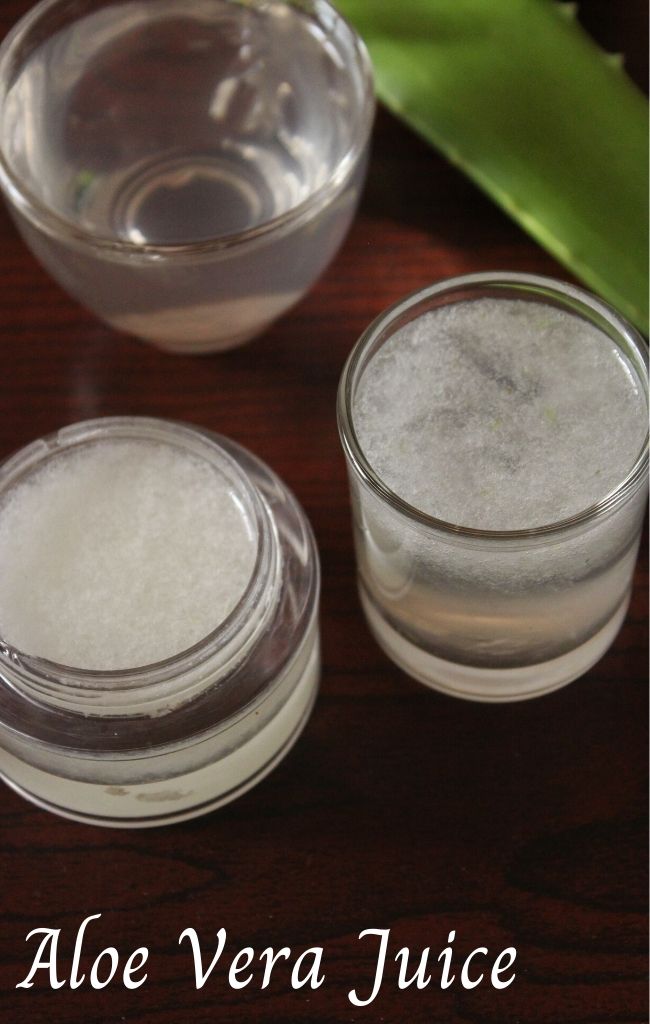 Please Note: This article is not about how to make aloe Vera juice. Before using it, one should consult a doctor.
It is always better not to consume without consulting a doctor.
These uses are based solely on the many sources of information on aloe vera. They have not been proven and are only intended to be a general guideline.
Recipe procedure
Here are the steps for making this aloe Vera juice for weight reduction and good health. It can be consumed fresh, not after it has been stored for too long as it can become toxic.
Here's the recipe for fresh aloe Vera juice. Below are the video details on how to make this simple aloe drink.
Step-by-step instructions
Extracting the gel from the leaf
Use two gel leaves. The leaves should be large enough but not too small.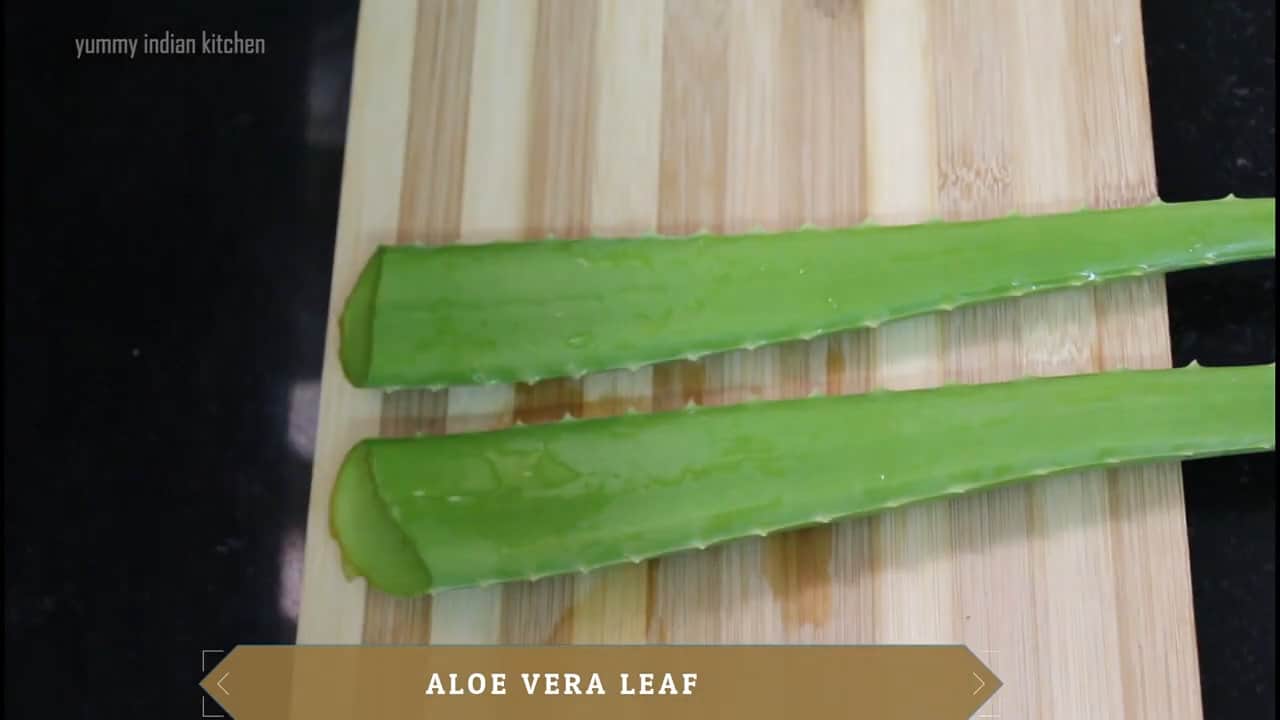 Take the leaves and hold them in your hands. Take the leaves and cut the ends. Apply them to the skin. It is very dangerous to use the yellow liquid.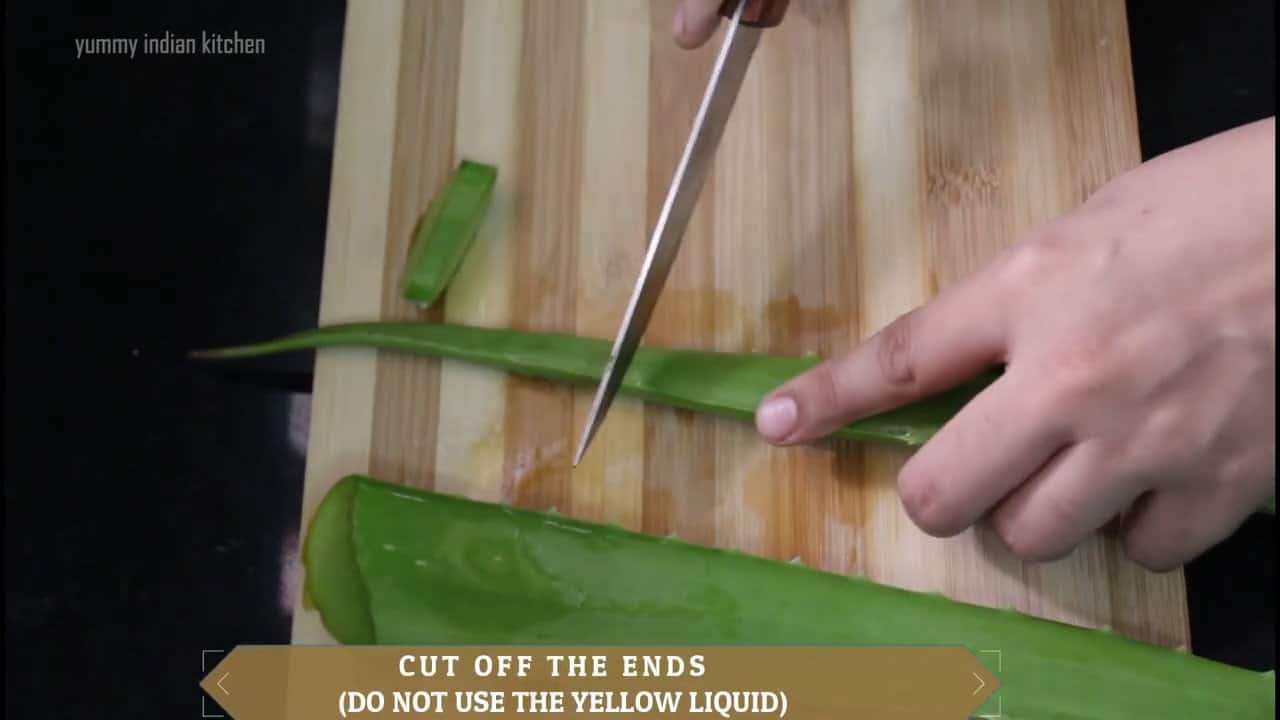 Use a knife or a peeler to remove the leaf's skin from one side to the other. Take off the entire leaf's skin from all sides.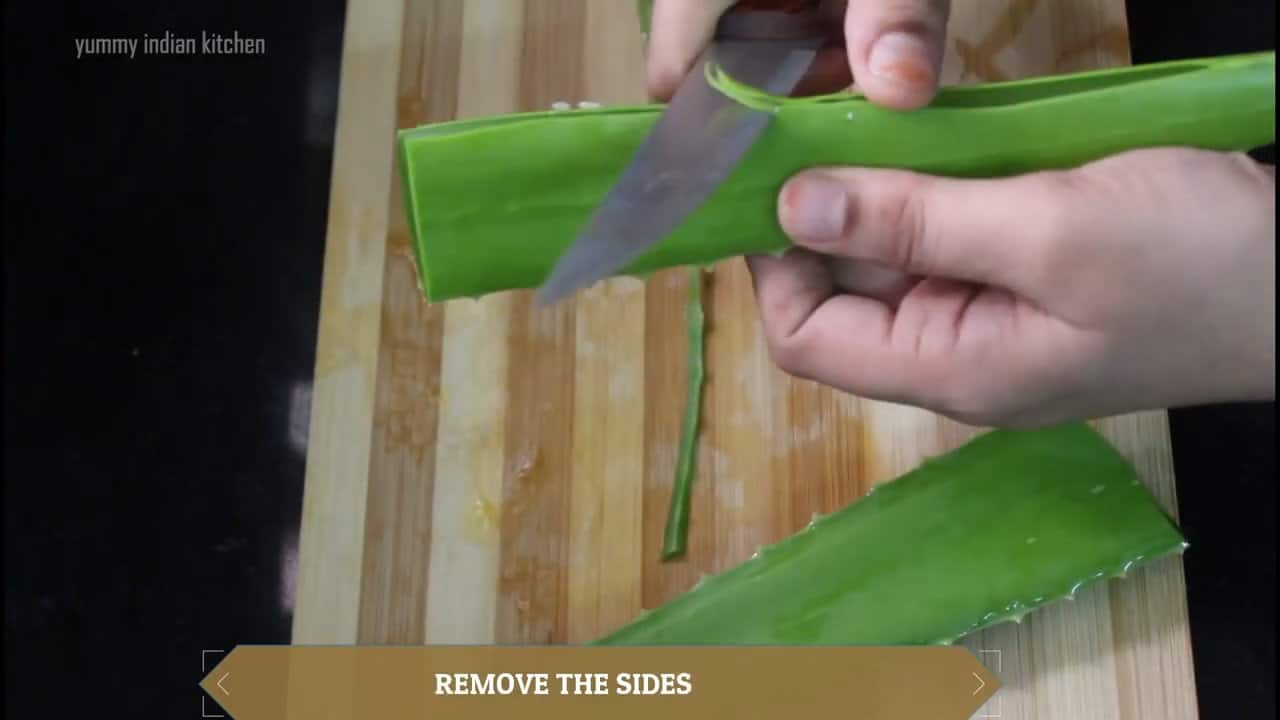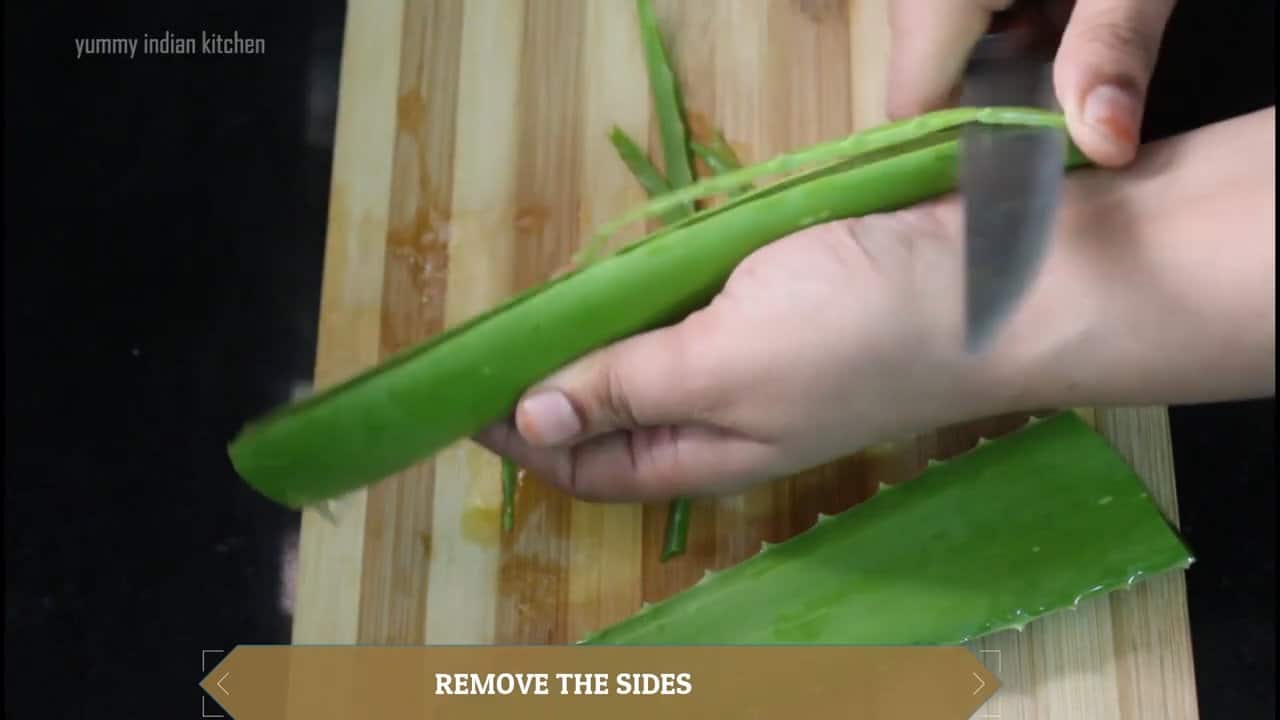 Also, remove the skin from the front and back sections. The gel should not be retained. Take off or peel all layers of the skin.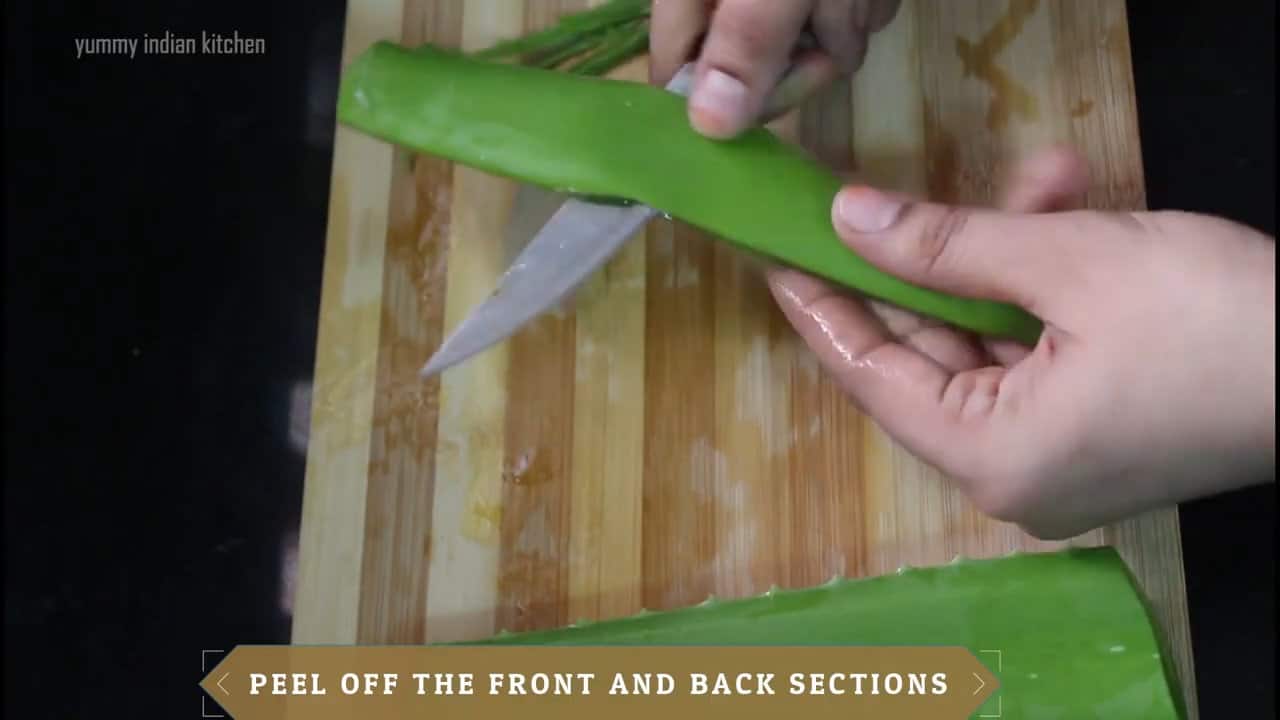 The actual flesh or gel that we use is the white part left over. Use aloe vera or the whole leaf without skin. Use aloe vera internally or externally only.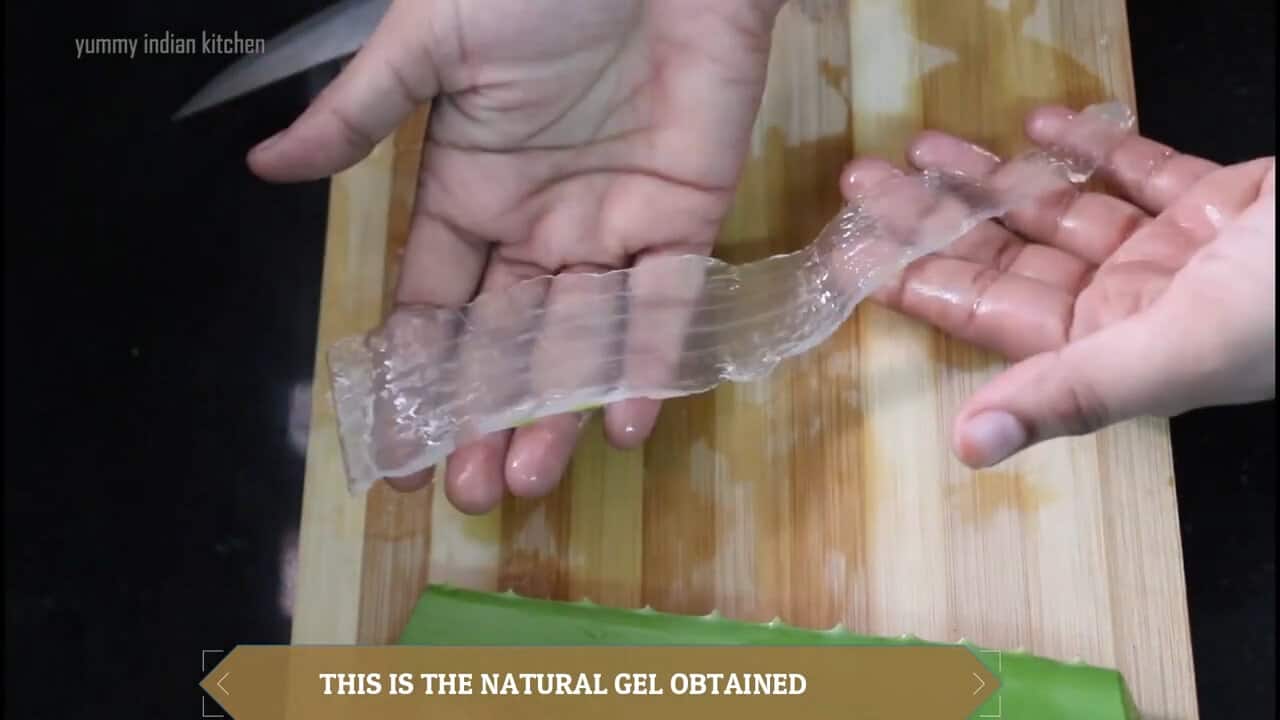 Use a knife to cut the gel into small cubes.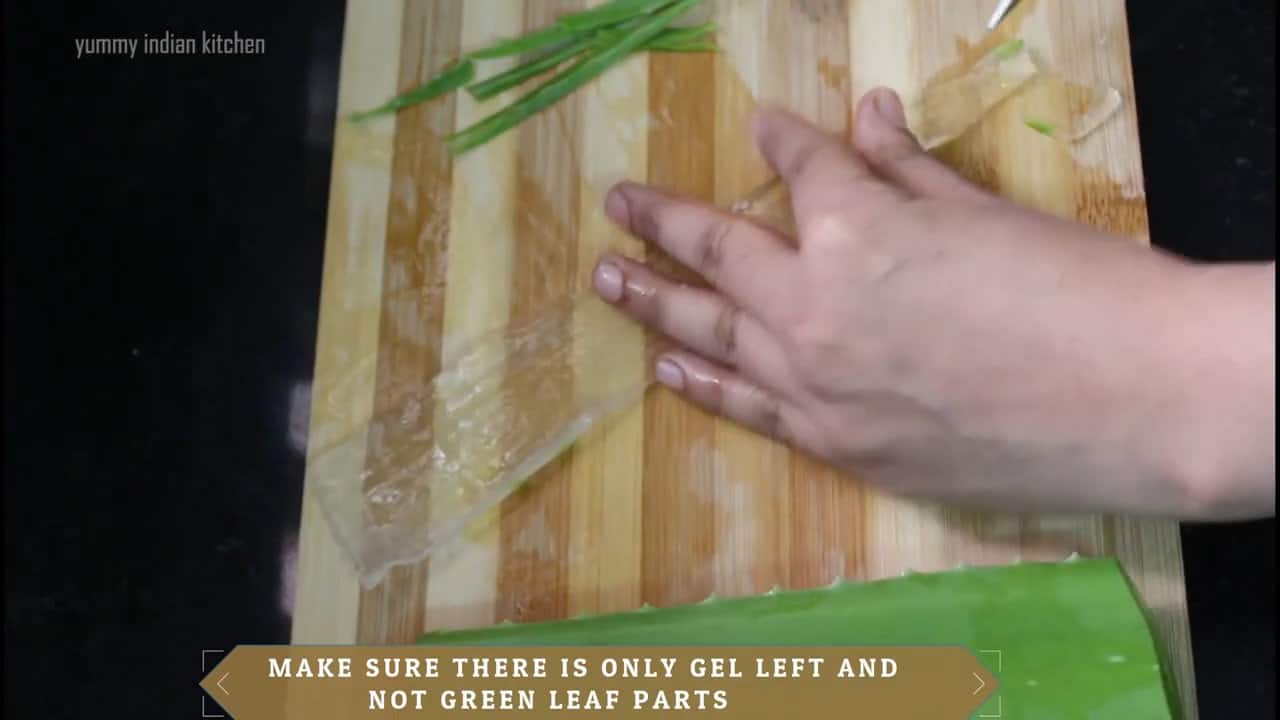 Making the juice:
Use a blender to combine the gel cubes from aloe vera.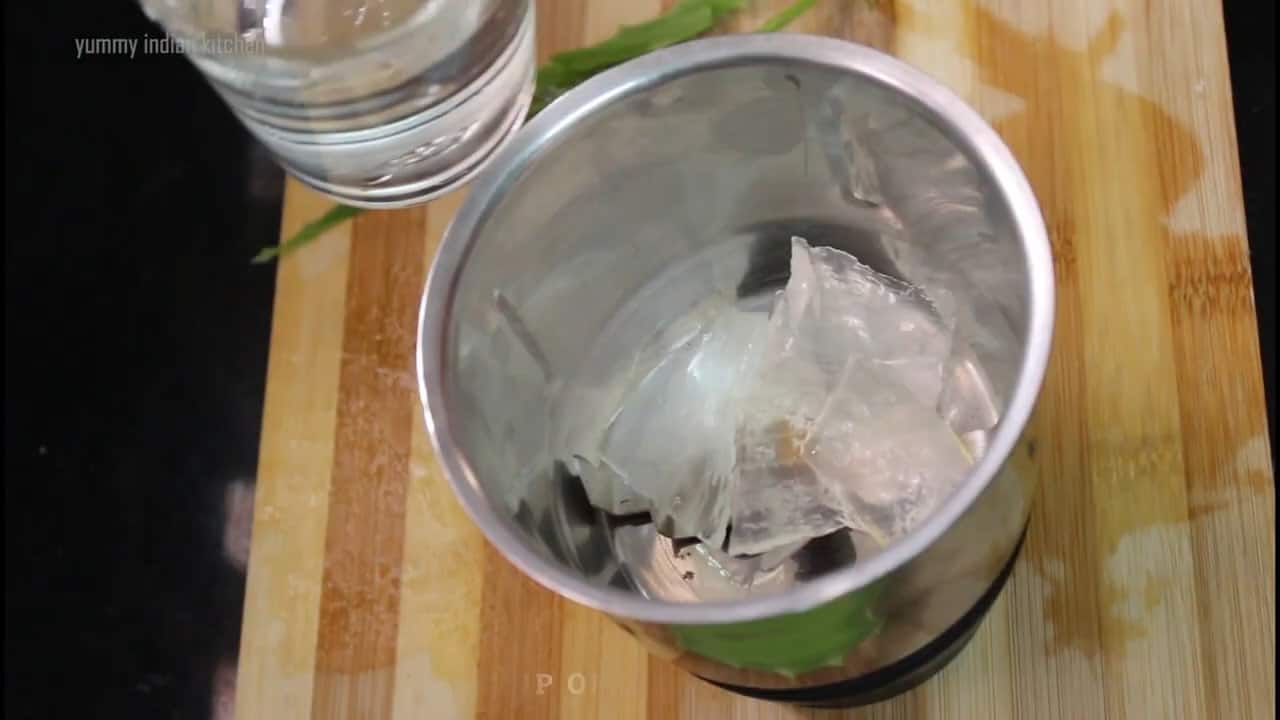 Add water. To make the juice blend well, add a little water. Blend any juice or smoothie blender to make.
Blend the juice for 2 to 3 minutes. The juice should appear frothy, without lumps.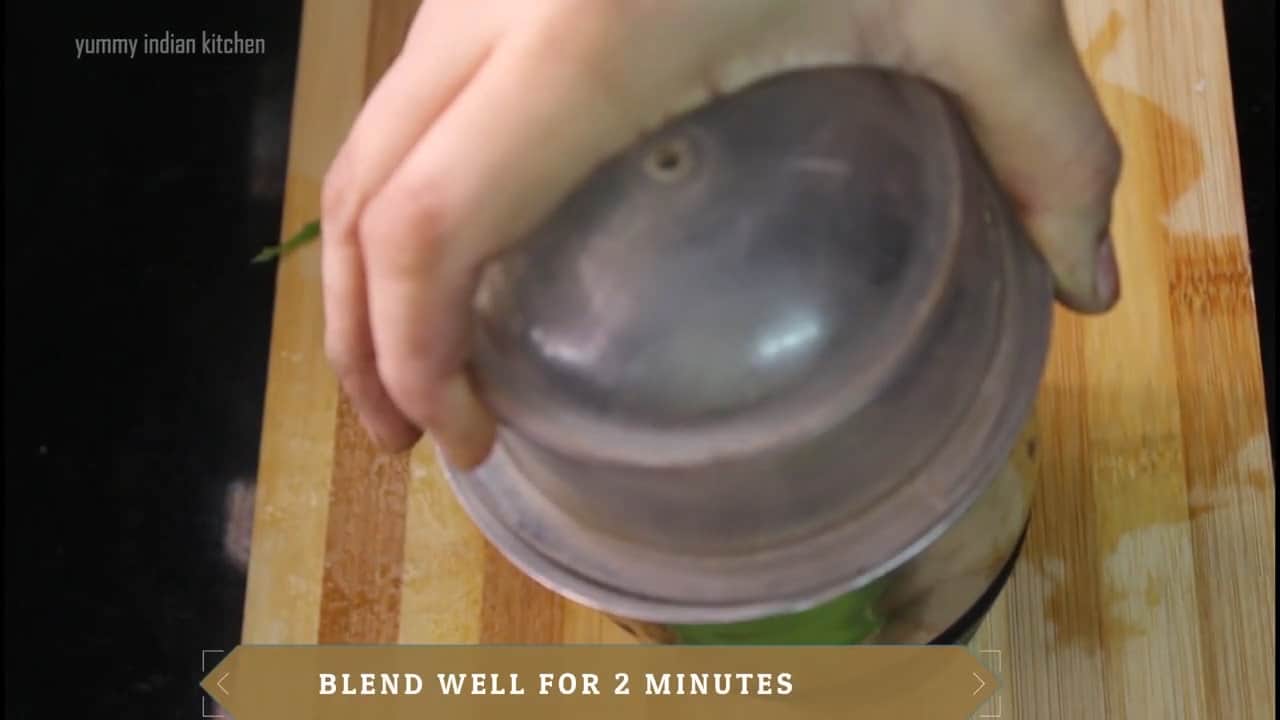 Put the juice in a glass.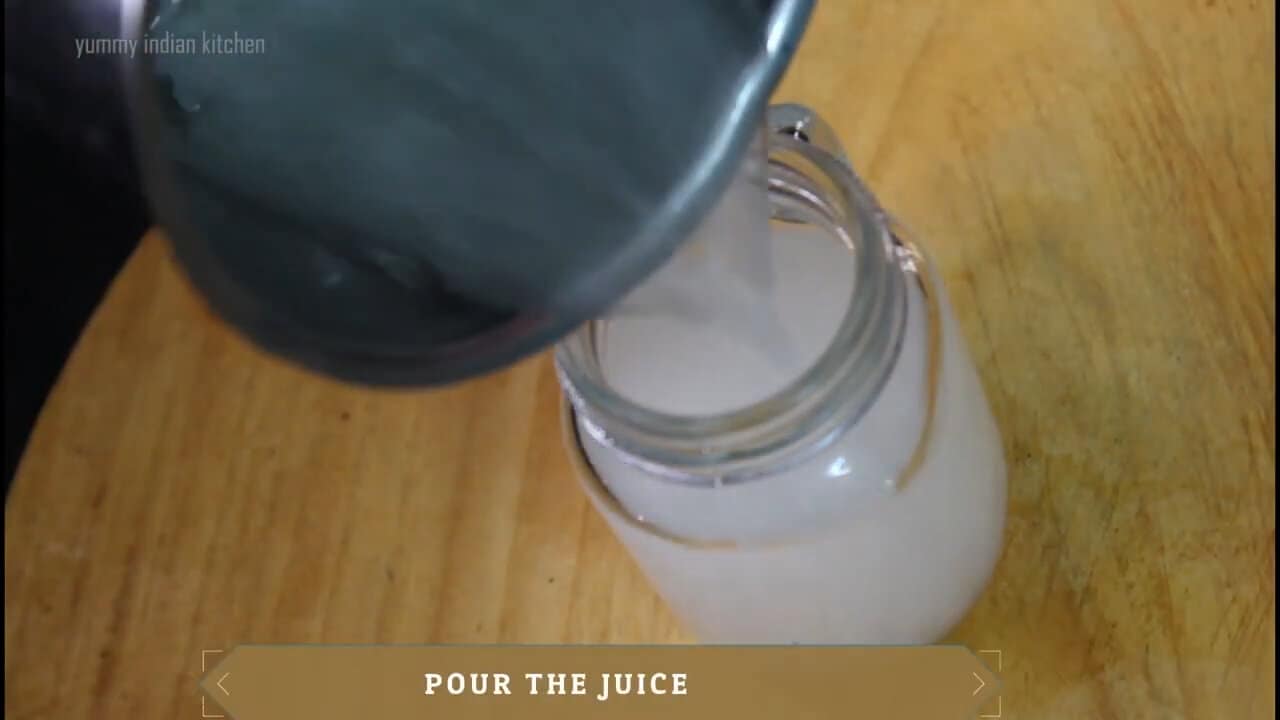 Mix honey and lemon extract together. Stir well (optional). The juice is slightly bitter. Honey can be added to sweeten the drink, but this is optional.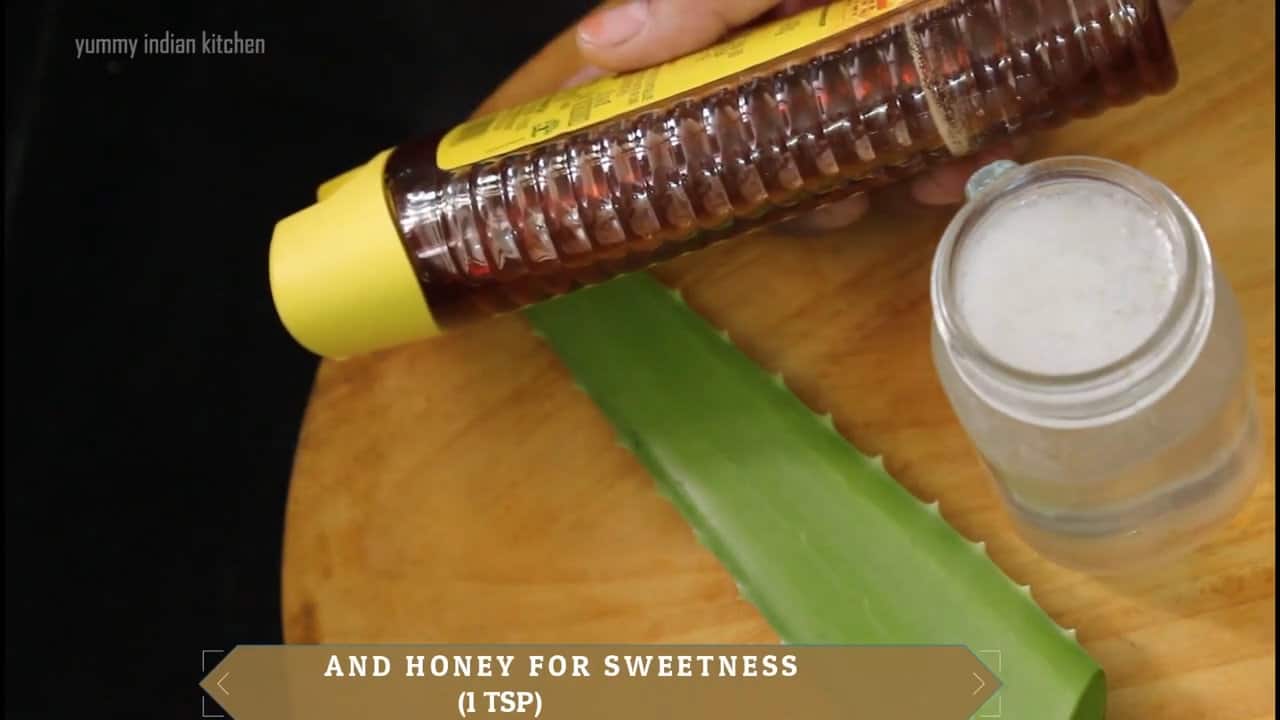 Drink the drink immediately, and keep it fresh. It is better to consume the drink immediately than to store it.
To make a chilled beverage, add cubes or blend.
NOTE:Consult your doctor before you consume the drink for any health problems or internal body-related issues. The information contained here is not medically endorsed.
How and when can this drink be used for weight loss?
It can be consumed before meals, primarily breakfast, but not in large amounts. Do not consume more than a few tablespoons of it per week. Consult your doctor before using it for weight loss. It has been proven to improve weight loss results and provide better results. You can also try apple cider vinegar for weight loss to see more of these drinks.
What other benefits does it provide?
It promotes weight loss, improves digestion, and helps to reduce internal sugar levels.
External benefits include reduced spots, pigmentation and sunburns.
It can be used externally to provide many healing properties. I have shared the benefits of using aloe Vera gel at home on the blog.
When should we consume the drink?
Aloe vera is best consumed before breakfast to get better results.
Answer to the second part is to only have it weekly, twice or thrice per week, not daily. High doses of aloe vera can cause side effects and dangers for the body.
Recipe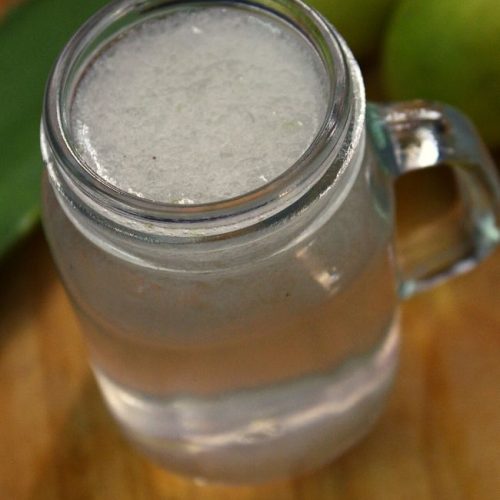 Aloe Vera Juice Recipes, Aloe Vera Drink, or Water
Indian food is delicious
Aloe vera juice recipe, a healthy beverage made with the gel or flesh from the aloe vera leaves.
Ingredients  
1

Aloe vera leaf big

6-7 cubes Aloe Vera

1

Cup

Water
Other ingredients are required
½

Take one teaspoon

Lemon extract

1

tsp

Honey
Instructions 
Extracting the gel from the leaf:
Take the leaf in one hand.

Use a knife or a peeler to remove the leaf's skin from one side to the other.

Remove all skin from the leaf.

The flesh or gel should be used from the remaining white part.

Use a knife to cut the gel into small cubes.
Making the juice:
In a blending bowl, combine the gel cubes from aloe vera.

Blend it for about 4 to 5 minutes, until you don't have any gel lumps.

The juice should appear frothy and free from lumps

Place the fresh juice in a glass.

Mix honey, lemon extract, and stir well (optional).

Drink the drink immediately and fresh.
Notes
If the drink is homemade, it should be consumed immediately and not stored for long periods of time unless it's a store-bought product with a expiry date.
You can lose weight by adding honey and lemon to your aloe vera juice. However, these ingredients can be optional and can be skipped.
Nutrition
Nutrition Facts
Aloe Vera Juice Recipes, Aloe Vera Drinks or Water
Serving Size
Calories 21
% Daily Value*
Sodium 12mg1%
Potassium 4mg0%
Carbohydrates 6g2%
Fiber 1g4%
Sugar 6g7%
Protein 1g2%
Vitamin C 1mg1%
Calcium 8mg1%
Iron 1mg6%
* Percent Daily Values are based on a 2000 calorie diet.
WANT TO WATCH VIDEO RECIPES?
SUBSCRIBEUS ON YOUTUBE
FAQ'S
How much of this juice or drink do you need?
Consuming large quantities of a drink or juice can cause side effects.
What are the side effects??
Aloe latex, which is toxic, should not be mixed with the skin. The yellow liquid that comes off the skin should be thrown away as it can cause other health problems and even cancer.
Can aloe Vera be applied to hair?
Yes, aloe Vera is a miracle ingredient that can improve hair and skin. Applying aloe gel to your hair can prevent dandruff, making hair thicker, healthier, and more lustrous.